Sunglasses

Eyeglasses

Sun Clips

Collaborations

Extras

Stories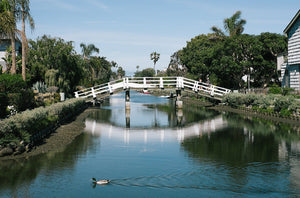 ---
Venice Canals
Words: Karena Meyer
Photos: Liam Goslett
---
What most LA natives think of when Venice California comes to mind is the eclectic Venice Beach Boardwalk, the boutique lined Abbot Kinney Boulevard and the quaint Venice Canals. Whether you're struggling to find a place to take your parents on a Sunday afternoon or that special someone you're trying to impress, the canals exude serenity, charm and the all too familiar photo op.

Wooden arched bridges connect an array of small walkways that showcase manicured lawns, lush gardens and three story homes. Come on a weekend and you'll be in the company of families gawking at the diverse high ceilinged mini mansions, teenagers flouting the "Do Not Feed the Ducks" signs and the brazen few who manage to sneak onto a resident's docked canal for that perfect Sunday Snapchat pic. But the canals weren't always so quaint. Most people who spend enough time in Venice know all too well that many areas in this well-sought out Westside destination were much less picturesque than they are today. The Venice Canals are no exception.

What started as Abbot Kinney's grand idea to replicate a mini Venice in Italy ended up with most of the waterways filled in with cement by the 1920s to create paved roads for the automobile. The six canals that remain today were eventually abandoned and left in disrepair. Broken sidewalks caved into dirty stagnant waterways, becoming dangerous enough for the city to close off in the 1940s. Poor conditions continued, creating a neglected swamp best described by the LA Times in 1961 as "no more than unsightly troughs, littered with cans, bottles, tires and dead fish."
Gawk at the high-ceilinged mini mansions. But know that the canals weren't always so quaint.
During the 1960s this secluded swamp became home to a cornucopia of counterculture misfits. Biker gangs such as Satan's Slaves, hippies, and artists gathered at the canals to escape the dreary conventional life. The area was embraced by these outcasts who transformed the many empty lots into public parks for their flower children to play in and held communal meals made from shared gardens. Most covered their low rent by selling art, homegrown produce or drugs, living in dilapidated bungalows overflowing with people of similar minds in what was transformed into a "slum without misery," as it was called in a later 1975 Times article.

This thriving subculture was eventually pushed out in the mid 1970s to early 1980s when a middle class milieu moved in – they were attracted to this edgy and adventurous bohemian life, but had no intention of adopting any of its hippie values. Previous Valley dwellers making their dreams of moving closer to the beach a reality were shocked to see topless women gardening and biker gangs eating food out of their refrigerators or taking showers in their bathrooms. Nevertheless, these new neighbors persisted in changing this unconventional lifestyle into a more quaint community. With growing property values and disappearing lots, the hippies were forced to migrate elsewhere. The canals underwent a restoration in 1993, when over a hundred new homes were developed, the canals were dredged, sidewalks repaired and boat and duck ramps installed. Most of what remains of the canals has been rebuilt and remodeled. But the next time you walk down one of the pristine water walkways, look closely and you can still spot a few original wooden bungalows with overgrown gardens and aging artists keen to talk about the good old days...or tell you to get off their property. It's a toss up.
---