Sunglasses

Eyeglasses

Sun Clips

Collaborations

Extras

Stories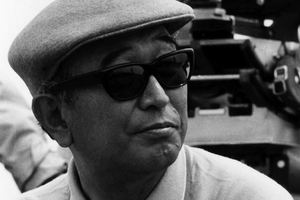 ---
The Director's Silhouette
Embracing the Iconic Style of '60s and '70s Film Directors
Words by Stacey Milas
---
The film directors of the '60s and '70s created a colossal shift of bold, anomalous cinema that changed the tides of the industry forever. Francis Ford Coppola, Jean-Luc Godard, and Akira Kurosawa come to mind – a powerful combination in all expressions of style — cinematic, personality, fashion, and of course, eyewear. To embrace the allure of the influential figures of the time who donned statement eyewear, Woz was designed as a homage to the golden era of filmmaking.
The charm of what we call the "director" eyewear silhouette is something you can't deny: it's a distinctive style that exudes confidence and authority. Its thick acetate frame and rectangular silhouette commands attention — Woz embodies a genre of fashion-forward individuals who proudly wear chunky, black frames. These sunglasses are an expression of power, creativity, and the desire to make a statement in the world of fashion and design.
Even today's legendary figures, such as fashion icon Anna Wintour, visionary designer Karim Rashid, the Olsen twins, and acclaimed filmmaker Jane Campion, share a common thread with the genre-defying directors of the past. They possess a deep appreciation for the rebellious spirit and boundary-pushing nature of the '60s and '70s cinema. 
Our Woz frame embodies this same ethos, transcending traditional categorizations to become their own genre. Just as the directors of the golden era challenged storytelling conventions, Woz pushes the boundaries between fashion and art, blurring the lines between eyewear and a statement piece. They symbolize the audacity to go against the grain, to embrace individuality and creativity, and to leave an indelible mark on the world. Like the influential figures of today, Woz evokes a notion of that intrepid spirit, inspiring wearers to carve their own unique paths and lead empowering direction.
Woz is a thick acetate frame with a rectangular silhouette. Its commanding presence is imparted by its defining sloped topline tapering out at the end pieces, along with contouring throughout. Comfort and all-day wearability were carefully considered in its design, with a new temple design providing ergonomic comfort. By infusing these nostalgic elements into the Woz sunglasses, we bring a touch of retro elegance into the contemporary world.  
---