Sunglasses

Eyeglasses

Sun Clips

Collaborations

Extras

Stories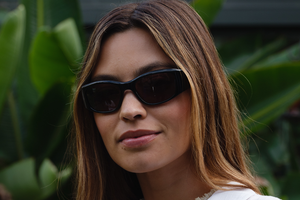 ---
Mr. Leight's Aloha Doc
Larry's ode to a life of waves and the man who best lived it: Doc Paskowitz.
Words by Lina Wiley
---
"There is a wisdom in the wave— high-born, beautiful— for those who would but paddle out." And paddle out is exactly what Dorian "Doc" Paskowitz did, time and again his entire life. 
Doc lived his life like the waves, for the waves — ebbing and flowing from place to place, sharing the healing powers of the ocean wherever he went. After serving time in the Navy in the late 1940s, Doc renounced his budding medical career to commit to the surf full-time. He traveled around, spending time in a newly independent Israel where he's said to have introduced the country to surfing for the first time ever.
In 1959 he married Juliette, and the couple embarked on a life of coast-cruising California in a camper van. Along the road, they added 9 children to their family. The beach was their home and the ocean their school. Eventually, Doc and his family really did open a surf school on San Onofre beach, still around as Paskowitz Surf Camp. 
As a friend of one of Doc's sons, Moses, Larry Leight was inspired by the legend and shared his story with the team. This is how the Aloha Doc was born — an ode to a life of waves and the man who best lived it.
An acetate wrap frame with specialty shark tooth temple engraving, the Aloha Doc elevates a sporty surf look to a '90s Pamela Anderson vacationing-in-Monaco look, maintaining both an oceanic spirit and a stylistic philosophy.
The queen of Malibu Beach, originally known for her role on the '90s lifeguard show Baywatch, is yet another iconic California beach bum who inspired these frames. Pamela's beach-babe meets cool-girl je ne sais quoi of '90s fashion perfectly synthesizes the aura of Mr. Leight—cool, effortless, quiet luxury.
Pamela's recent documentary "Pamela: A Love Story" has brought the star back into the spotlight to tell her life story in her own words. It's safe to say, we all love her-- and with resurging '90s fashion trends, we need not look further for styling inspo.  
The Aloha Doc may be hot right now, but as cyclical fashion has shown, the style can be a staple fashion look forever. Its rich, nature-mimicking colorways give it everlasting style — elevating any outfit to a complete look.
---