Sunglasses

Eyeglasses

Sun Clips

Collaborations

Extras

Stories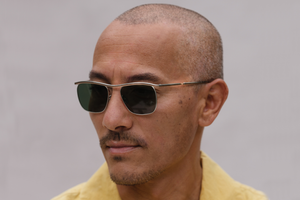 ---
Mr. Leight Owsley S
Words by Josh Peskowitz


---
The 1960's is the well spring for so much of today's culture. The ideas, cultural battles, politics, music – hell, even some of the people – still dominate the discussion 60 years later. Living through those times felt heavy, just ask Larry Leight. The Mr. Leight collection this season has everything to do with his formative time in Hawaii and the sense of cool that came out of it. 
Case in point: The Owsley S frame is named for the sound engineer, inventor, and LSD chemist of the Grateful Dead. While based on funky tradition, these tri-colored frames are rendered in platinum, white gold and other precious metals that lend them a sense of maturity and sophistication for 2023. 
The shape is pure counterculture with a nod to Peter Fonda's Easy Rider eyewear at a time when his dusty road-worn aesthetic is referenced by brands and musicians in all categories from Lil Uzi Vert to Post Malone.
But the Owsley is also equal parts stone cold elegance, ala Thin White Duke era David Bowie. As we've discussed before, Bowie's look from this era – it's culmination being the Man Who Fell to Earth – has been a well spring of inspiration for designers, artists and musicians ever since. The man never stood still, but we'd like to think if he were still with us today he'd be looking at the world through The Owsley's rose colored glasses. 
---