Sunglasses

Eyeglasses

Sun Clips

Collaborations

Extras

Stories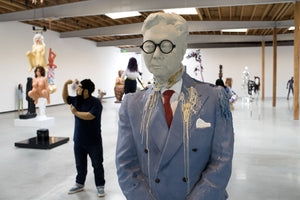 ---
Underground Gallery Guide - Part 1: Hollywood Edition
Features /April
Words: Dustin A. Beatty
Collaborator Photos: Dustin A. Beatty
---
Deitch
Anyone who romanticizes Julian Schnabel's epic ode to Basquiat knows how vibrant the New York art scene was in the 80s. A lot of Manhattan was a shit-hole, birthing a hive of street art activity lurking in the shadows and in busy train yards. At the time, art dealer, Jeffrey Deitch, was already a major player in the ears of serious collectors while serving on the authentication committee of the estate for Jean-Michel. The two were friends and Deitch also had a personal affinity for street art. Eventually, he launched a gallery under the moniker Deitch Projects in New York. The roomy old lumber store swelled with activity and egos as Deitch exhibited well-established artists like Vanessa Beecroft and debuted a number of up and comers who eventually became household names. Artists like Barry McGee, Ryan McGinness, and Kehinde Wiley also graced the gallery walls. Deitch eventually shuttered his space in light of a major move to LA to serve as director of the MOCA. Audience numbers swelled to record highs with shows like 'Art in the Streets,' combining the efforts of two art dissidents, Deitch himself and Alleged Gallery's, Aaron Rose. Despite his successes with legendary programming, Deitch fired chief curator Paul Schimmel and the rest of the board went packing. Rumors abound about the subsequent fall out, but in another punk rock move, he returned to his roots and claimed his taste for himself by opening two new galleries in LA and New York. The LA space is a sprawling 15,000 square foot warehouse that launched with a salient statement on the many generations of Chinese with a crowded room of everyday civilian stools by Ai Weiwei. Next to show is People, a group exhibit of the shape-shifting human form by fifty different artists. Urs Fischer, Tony Matelli, Duane Hanson Luis Flores, Hajime Sorayama, and a favorite installation by Barry McGee encourage viewers to get up close and personal with diversity, the fantastical and morose. Deitch wouldn't want it any other way.
The Lodge
From 1957 to 1966, the small Ferus gallery in Los Angeles Blvd. off La Cienega gave rise to a number of burgeoning art stars, including Billy Al Bengston, Wallace Berman, and Ed Ruscha. The uninitiated would be hard-pressed to make a direct connection to the intimate setting at Ferus and Ruscha's eventual purchase of the artist compound at 1024 North Western; however, his decision to house his studio in joined bungalows ultimately connected the relationship to art and architecture at The Lodge Gallery. Founder, Alice Lodge slowly transformed the live-work space from a humble home into one of LA's most sought after art hubs. The layout of the space is unique with a wall separating two gallery rooms, creating a duality that tightens focus and attention to the works on the walls within the homey environment. Alice and Associate Director, Bayley Mizelle struck a balance between both their aesthetics while exploring what the space also meant to them and the artists who walk through their doors. "The two exhibition spaces sort of mimic ideas and processes of experiencing an installation moving back and forth, or interchanging. It keeps charming, sometimes opposing, viewing structures to the space," added Mizelle. The need for the exhibition space is changing so Lodge and Mizelle pay close attention to what that relationship looks like between the artist, venue and the public. That loosely translates in both intentional and spontaneous ways of making the experience unique to the gallery. Residencies, group shows and solo exhibits make up most of the programming that all coalesces into a pattern of meaningful and engaging experiences. As a result, artists like David Black, Austyn Weiner, Robbie Simon, Skylar Hughes and a growing roster of other artists not only choose The Lodge as the perfect venue to showcase their work but also trust that doing so will be instrumental to their growth.
HVW8
Curator, Tyler Gibney operates one of LA's longest standing gallery spaces that is just as relevant as some of the artists he shows. Tucked off a side street off of Melrose in the Fairfax borough of Los Angeles, the revolving door of talent exhibited on the walls range from skateboarder Mark Gonzalez to commercial illustrator Geoff McFetridge, painter Brian Lotti to well-known photographer Atiba Jefferson and a slew of other luminaries. Gibney takes his role seriously with skin in the game that spans almost twenty years of fostering the new. While it wasn't branded HVW8 yet, the original idea was birthed in the late 90s in Montreal, Canada with Gibney acting as a curator for commercial projects. More specifically, he started by developing a live painting experience during the first Coachella with Amon Tobin, Lee Scratch Perry, Kool Keith and others. He was so close to the culture of graphic and street art that a move to LA prompted the opening of the gallery in its first location on Melrose Avenue in 2006. That space has grown into a movement in and of itself with tentacles transcending the expected stalwarts in the business. "We show a lot of art that wouldn't normally have a venue," he added. More recently, Gibney's vision has extended to political shows, a big part of HVW8's mandate and also proper traveling exhibits like a show centered around Lemonious. He was the father of dancehall artwork with roots in providing illustrations for just about every instructional pamphlet at the time. As HVW8's home base in LA continues to pulse with regular activity asserting their dedication to the artists they represent, showing unrecognized talent and a satellite gallery in Berlin, their influence as an institution touches so many lives and continues to carry the torch for artists in a country that needs it now more than ever.
For more, read Part 2: Downtown Edition
---