Sunglasses

Eyeglasses

Sun Clips

Collaborations

Extras

Stories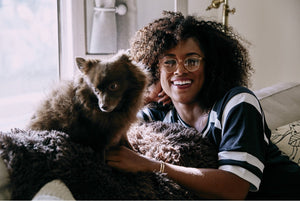 ---
Troy Mullins
Features /February 12, 2019
Words: Garrett Leight
Collaborator Photos: Joshua Spencer
---
Troy Mullins is the one time world record holder of the women's longest drive at 402 yards, a fact which merely scratches the surface on what a brave and talented human being she actually is. Let's just cut to the chase on the fact that she's a black woman excelling in a white male dominated sport and popular because of her strength.
That's right people, Troy is literally stronger and hits the ball longer, than 99.9% of men who golf. If that's not fucking rad, I literally don't know what is. And if you as a golfer have a problem with her driving the ball 50 yards past you every time, then you're the problem. Furthermore, she's a Cornell graduate, college heptathlete who decided to chase her dreams of a golf career by starting a tutoring business educating the youth.
That's not it. Perhaps her most ridiculous talent, she picked up her first golf club at 22 and by 25 placed second in a World Long Drive competition using her own regular length drivers. No sponsors. No special shaft or loft on the club head. Just pure grit, athletic talent, and mind over matter.
What I love most about Troy is she's a true lover of the game with a happy disposition and some serious style. She has a head of hair that rivals 1970's Diana Ross, with a hint of Lauryn Hill and Erykah Badu in there as well. Let's not forget she's draped in head to toe J. Lindeberg pure drip at all times, and her swagger is one that the game of golf desperately needs. Let's fuckin GO!
---