Sunglasses

Eyeglasses

Sun Clips

Collaborations

Extras

Stories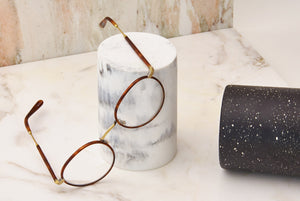 ---
The Wilson
Our classic, round frame is still as relevant today as ever. (Much like the member of the Fab Four who inspired it.)
---
By Elena Doukas
It's unclear exactly when John Lennon started wearing his signature, small, round metal frames, but the popular style blew up after the famous Beatles performer and songwriter paired it with fatigues in the goofy British film How I Won the War in 1967.
Lennon would go on to wear multiple iterations of round frames, but the first was a pair of the government issued British National Health Service NHS frames that were covered by the free British Health Care system. (Of course, Lennon would take the frame of the "commoner" and make it sought after!) There have since been some famous Japanese optical shops that have come out of the woodwork, claiming they made Lennon his glasses in later years, and we believe them since he seemed to have an endless array of the same, timeless look in both sun and optical styles, which became kind of the gold standard for hippies and musicians in the late 1960s and early 70s. If a pair of frames wrote "Imagine," it was these.
When we first launched the Wilson it was one of our first metal optical frames in the collection, and it came in the most classic version: a small, metal frame with authentic Windsor rims. A lot of frames that look like Wilson have the pattern painted on the rims, but we wanted to stay true to the original craft and get a Windsor (plastic) rim that wrapped around the eye-wire. Plus, Garrett wanted to make sure we stayed as true to Lennon as we could, not a millimeter too large.
In 2020 though, the Wilson comes in multiple sizes and constructions, and while we realize a round shape might not be for everyone, this is about as versatile as they come: it has adjustable nose pads to fit many different bridges and comes in multiple metal and non-metal styles, and even as a clip-on.
The idea was to make such an iconic look wearable through the seasons, both formally and informally, dressed up or down. And while this frame may have started with John, we've discovered it works equally as well for Yoko: with Hollywood "It" girls like Emily Ratajakowski and Kendall Jenner having worn it in recent years. Consider it a frame for the people.
---