Sunglasses

Eyeglasses

Sun Clips

Collaborations

Extras

Stories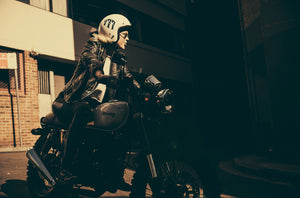 ---
The Throttle Dolls
Photos: Billy Zammit
Words: Emily Draznik
Special thanks: Sol Invictus
---
In movies bikers are portrayed as hyper-masculine, leather-cladded, burly, and bearded. Traditionally this has never been the friendliest environment for females. Now enter The Throttle Dolls. This Sydney-based girl group hosts monthly rides around their hometown to gather together fellow ladies who like to ride, talk bikes, drink coffee and beer, and in general, be awesome. Three to four times every quarter they host hour-long rides up and down the coast of Sydney for both guys and girls. On occasion, they'll gather a smaller group together to take a weekend-long "Swag n Ride," their own escapist version of sleeping on beaches, in countrysides, or in the middle of nowhere.

Maria Adzersen and her partners in crime, Nina and Erica, act as ringleaders for this girl gang that is slowly infecting the Sydney Café Racer scene with their signature stamp of female empowerment. When asked how the Throttle Dolls were formed, Maria thinks back to the lack of a female rider community that she could relate to and be a part of. With the Throttle Dolls there's safety in numbers, plus the fact that a procession of female motorists is very hard to miss. Maria feels that motorbikes represent freedom, fierce independence, and a sense of adventure. Not only do the bikes act as a mode of transportation, but they also offer a hands-on education in all matters mechanics. Overall, the experience of working with bikes is undoubtedly therapeutic.

Their next big plans include a long ride across the US where Los Angeles is a scheduled pit stop. In Sydney you can find the Dolls riding through the Royal National Park south of the city. From there they head up north to West Head and Church Point to scenic lookouts and beaches. When they head inland, the "Five Ferries" run to St. Albans is their regular route—speaking of which, if you're in Sydney on April 19th, feel free to join in on the Dolls' latest ride kicking off from Deus Ex Machina in Camperdown as they roll 150 riders deep. With that many motors running at once, they'll be sure to have the entire country rockin' and rollin' along with them. Well, that only makes it more clear that LA is definitely due for a dose of these dolls. Sign us up.
---