Sunglasses

Eyeglasses

Sun Clips

Collaborations

Extras

Stories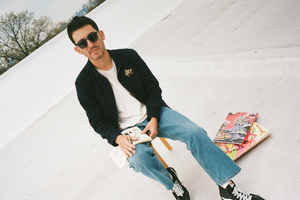 ---
The Mind Behind the Eyeballs
Artist Daniel Shepard Has A Mind Melding Take On The California Dream.
Words: Elliot Aronow
Photography: Sophie Hur
---
Daniel Shepard is an artist and graphic designer currently living and working in Mexico City. He's also our creative partner for one of our brand's most ambitious artist collaborations to date.
The GLCO x Daniel Shepard collection is a fresh, slightly abstracted take on classic California living. It's a world where outlaw pool skaters and mellow stoners rub elbows with Jesus freaks, neo-hippies, aggro cops, and other fringe characters as they all find ways to co-exist and chase their dreams under Cali's cloudless skies.
Thanks to the artist's playfully psychedelic and slightly macabre lens, it's both exotic and familiar, like channel surfing inside a comic book. It's beautiful and playful and halfway between a trippy cartoon and what passes for real life these days. We love it.
With a canvas that included towels, beach umbrellas, sling chairs, short and long sleeve tees, sticker sheets, and canvas tote bags, we gave Daniel our blessing to show us his California, greasy drive thrus, pristine sunsets, and all.
As for the handsome eyeballs that appear through the collection, are they just cartoons? Social commentary? Secret codes? We wanted to know more!
To get a deeper insight into Daniel's world, we hopped on a call with him at his home in Mexico City to talk about his process, inspirations, and passions. Here's what came back.
Elliot Aronow: Let's dig right in. What's up with the eyeball motif? It definitely gives off some retro psychedelic vibes.
Daniel Shepard: I cycled through a few things before landing on the eyeball. At first I was drawing them very loose and sketchy, but then I bought one of those plastic circle-making things and they started coming out way better. After I got that technique down, I just kept going and going. I've been doing it for about 4 years now.
EA: You are in good company with the eyeball motif. There were these really cool '80s toys called Madballs that were those sort of gross out squishy monsters styled like eyeballs.
DS: There's also that band, I forget the name. They are kind of like weirdo jazz…
EA: The Residents!
DS: Yes, The Residents!
EA: Switching gears slightly, how did this new collaboration with Garrett Leight come about?
DS: Mark Gainor (editor's note: Garrett Leight's Art Director) hit me up on Instagram and I was really impressed by how much creative freedom he and the team were giving me. We established that the collection would have a strong California theme running through it, but aside from that, they let me do whatever I felt was best. It's rare for someone to have that much faith in your vision and I think that the trust we shared together came through in the work. It's very loose and fun, but still has a strong narrative and identity.
EA: What aspects of California were you looking to capture in the work?
DS: The good, the bad, and the ugly! I wanted to start out with more obvious, glamorous stuff like beaches and palm trees, and then slowly add in other, more shadowy elements to give a bit more color and depth. I also tried to match different visions to specific items like the cooler, the towels, the t-shirt. It's so exciting to see my work on such a diverse range of product.
EA: What do you do to get in the zone? Do you have any rituals that you undertake before you start creating?
DS: I usually start by leaving my house, grabbing a coffee, and going for a walk. That helps to clear my head. After that, I like to look at lots of reference materials like films, albums, and skate videos to get inspired. I like to look at common things from all sides and see what I can add to their stories with some rough sketches.
EA: Do you have any fine artist training?
DS: Yes, I studied graphic design formally in Mexico but I always did illustration in a less formal capacity. Like a lot of young artists, I was doing stuff like logos and flyers for companies for money but when the assignment was an illustration, I would spend hours and hours working on it. That's how I knew I really loved to draw. I also took some continuing education classes at SVA to deepen my practice.
EA: What makes you happiest?
DS: Simple things. I love riding my bike. I love the summer and exploring different parts of the city and people watching. I always carry my sketchbook with me so I can capture those joyous moments and see where they take me later on.
Loving Daniel's work? You can follow him on Instagram @DANYBOYDOID.
---