Sunglasses

Eyeglasses

Sun Clips

Collaborations

Extras

Stories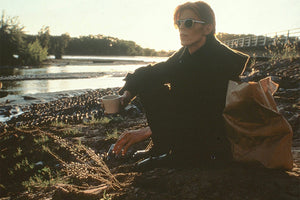 ---
The Man Who Fell to Earth
David Bowie's eclectic eyewear in these striking frame shapes and colored lenses exudes his iconic style in this classic film.
Words: Josh Peskowitz
---
Besides being a legend in the music field, David Bowie proved during the course of his life to be prescient in many ways. When it came to developments in human culture, you can just look at his predictions about the internet and social media, and how they would affect the coming generations as proof of this.
His film from 1976, the Man Who Fell to Earth is no exception to his rule of being at the forefront of both style and content. The science fiction picture, which was directed by Nicholas Roeg and written by Paul Mayersberg was based on Walter Tevis's 1963 novel of the same name. The film focuses on David Bowie's character of Thomas Jerome Newton – an alien who fell to earth (in the form of the Thin White Duke) from a distant planet while searching the cosmos to find a way to ship water back to his home planet, which was suffering from an absolutely devastating drought due to climate change. Sound familiar?
Through a series of psychedelic tableaus, Newton explores, succumbs, and eventually triumphs over the addictive qualities of media (in his case television), alcohol and sex. All things our society is awash in 45 years later. Some issues, the movie seems to say, are universal. A little under half a century after the film premiered, the plot is still hard to follow, and Bowie's outfits are still killer. In particular, his eyewear.
His preference (in the film) for metal frames with a slightly tinted lens is now all the rage. Again. His total look, from the hombre hair to a louche combination of tailored clothing and safari inspired shirts and trousers could easily be seen in downtown New York, or the streets of Silver Lake in 2021. Science fiction often uses the future to show us our current state, and even though this film has a dated feel, Bowie, as always, was ahead of his time.
---