Sunglasses

Eyeglasses

Sun Clips

Collaborations

Extras

Stories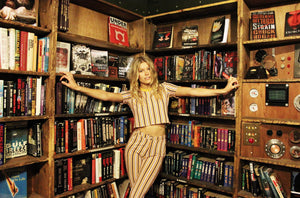 ---
The Last Bookstore
Features /November
Words: Tiffany Chan
Collaborator Photos: Lindsey Lee
---
This is for time-travelers. And well-traveled globetrotters. And homebodies, too. This is for the sleuthers who stay up all night to crack a case, and novice chefs who are just learning how to crack an egg. Fans of fiction and nonfiction, you are equally welcome. Novels rarely stray far from reality, and no one quite knows reality enough to tell you otherwise.

At least not yet. You might find it if you look very hard. Available to you, volumes piled high: philosophy, theory, and theology alike. As for mystery lovers, you can congregate, vaulted with Crime, on the second floor.

A few other things you can try: tunneling through text, though you can't read any of it. Contributing to color libraries. Moseying through music, and more makers' spaces upstairs.

This is The Last Bookstore: parts old, but all new. This is a place to get lost; this is labyrinthine. And this is for you.
---