Sunglasses

Eyeglasses

Sun Clips

Collaborations

Extras

Stories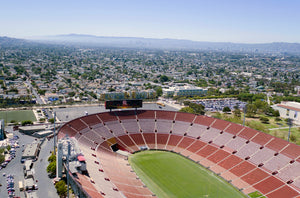 ---
The L.A. Coliseum
Words: Garrett Leight
Photos: L.A. Drones & Benjamin Grimes
---
Spectacle 8
The Los Angeles Coliseum gets no love. It's hard to believe, but it's entirely true. There's seven venues in Los Angeles that matter, and I think it's fair to say that it's the one that Angelenos are the most indifferent towards. If you've lived in Los Angeles for less than fifty years and aren't a USC Trojans fan or graduate, you likely have no experience with what is occasionally referred to as "The Greatest Stadium In The World." Staples Center, Chavez Ravine, The Rose Bowl, The Forum, The Greek Theatre and The Hollywood Bowl get all the attention. But the list of monumental LA Coliseum moments is truly endless. I have to share a handful of them because I honestly had no idea. It's the only stadium ever to host two Olympics, and maybe a third in 2024. It was the home of Super Bowl I. The Trojans and Bruins shared these hallowed grounds from opening day in 1923 until 1981, when the lesser Bruins moved to Pasadena. It was home to the Raiders, Rams, Chargers, and Dodgers. The adjacent Sports Arena was home to the Lakers, Clippers, and Kings. It's been visited by Reagan, Nixon, Kennedy, Mandela, and Pope John Paul II. It's been rocked by The Stones, Springsteen, The Grateful Dead, Metallica and Van Halen to name of few.

So what's the deal? Why second fiddle? Is it the fact that it's in the flattest part of LA, surrounded on all sides by Inglewood, Crenshaw, Downtown LA and Vernon? Surely the fact that no professional sports team has played there in twenty years must be part of the reason not many people visit? After all, Los Angeles is widely considered to have the worst sports fans in the world, which I amount to jealousy. Architecturally speaking the Coliseum is a standout with its iconic peristyle design. It holds the record for highest attendance of a baseball or football game in an American stadium. The LA Coliseum doesn't need to defend itself, and I should waste no more time doing so. Simply flip through these photos to experience its awe-inspiring greatness in the heart of Los Angeles, surrounded by some of Los Angeles' most authentic natives.

Now let's talk about the LA Rams. Excited: to be or not to be? I'm a lifelong Angeleno who was ten when football left Los Angeles and twelve when I fell in love with football. So, that makes me, wait for it, a Patriots fan? Please don't blame a twelve year old for choosing one of the teams in the 1997 Super Bowl. I could have easily been a Packers fan if I hadn't wanted my best friend's team to lose. Or maybe I just like the underdog, and clearly Bledsoe wasn't Favre. However, what matters most is that I'm a sports fanatic and proud Angeleno. I love my teams through thick and thin. I don't always believe, but I always defend. I stay informed. I can name our players, coaches, owners, team salaries, general style of play for each team, and a fair amount about each franchise's history. But given my age, I can't say I'm going to become a Rams fan overnight. I can't even say I'm excited to go to more than one game. Personally I think football is better on television. But the fact remains, my favorite football team is in Boston; something's gotta change. I'm just not sure it ever will. Who's to blame? Certainly not me. The big bad NFL? Georgia Frontiere? Do you remember her? The poofy haired Rams owner by default (her husband died) who moved the Rams to her hometown of St. Louis, where she was known as St. Louis' "Gal About Town." I think that's it, it's her fault I'm not a Rams fan. If you Google one picture of her, you'll see why she's my scapegoat.

Nonetheless, the Rams are coming, and I'm an Aries! This is going to significantly change the landscape of Los Angeles and bridge the gap between Inglewood and Hollywood. It's going to help unite the city and create a better Los Angeles. We have nowhere to grow but up and out; we need this. We have a multibillion dollar transit system now; we need to use it. Rams owner Stanley Kroenke is about to transform a 238 acre piece of property in Inglewood, complete with 620,000 square feet of retail space, 3,000 housing units, and most importantly, the greatest stadium the world has ever seen (for $2.6 billion fucking dollars it better be). We will get Super Bowls, World Cups, Olympics, and Bieber concerts. Angelenos can now boldly go where no other Angeleno before would go. They could have gone before, but they wouldn't.

"Goff steps back, he can't find anyone open, he rolls to his right, he avoids a tackle, looks down the field, still no one open, he's gonna run, he's got a path, Goff's at the 10, the 5, he dives for the pylon, he's in! Touchdown!!! The Rams win!!! The Rams Win!!! It's really happened, the Rams win!!! The Los Angeles Rams are your 2020 NFL Champions!"
---