Sunglasses

Eyeglasses

Sun Clips

Collaborations

Extras

Stories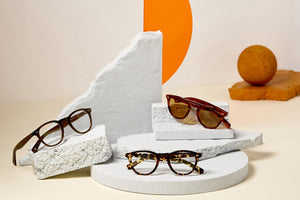 ---
Hampton X
GLCO designer Elena Doukas breaks down the 10
th
 anniversary edition of our first-ever frame.
---
By Elena Doukas
The Hampton is the first frame Garrett ever designed, and like any classic eyewear style, I think it's just as relevant today from when it was first introduced. It's also understated. When we started out in 2010, the prevailing eyewear style was more bug-eyed, and oversized, it was Britney Spears or Lindsay Lohan putting on a big pair of shades to hide bags after a long night. The Hampton reflected a more "tailored," unisex eyewear style that would come to define the last ten years.
The Hampton is one of our most popular styles, and we've sold a lot of them. It's our version of a Levis 501 jean, or a Converse Hi-Top. The easy, semi-round shape and wide bridge opening makes them practically universal for a variety of head sizes and face shapes, especially for guys. It's a pair of sunglasses you can wear every day of the year in sunny California and always feel cool and put together.
For our tenth anniversary, we tried to amp the frame up a little, adding bolder details like a thicker, paddle temple and a logo plaque. The frame itself is thicker, too—Bold is really in right now, and people are taking risks with their clothing and eyewear choices, and we wanted to reflect that in the design. Yet, the changes are subtle enough that a customer who has been wearing these for years won't be turned off by the tweaks, either. As a design team we always try to hit that happy zone between timeless, and forward thinking—keeping things classic while subtly pushing them forward. I think the Hampton X rides that line perfectly.
---