Sunglasses

Eyeglasses

Sun Clips

Collaborations

Extras

Stories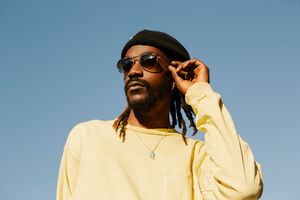 ---
The Aviator
Guides /June 12, 2018
Words: Karena Meyer
---


Why Aviator Sunglasses?
Aviators are forever fly. It's more than just a 30s throwback. General MacArthur, Maverick and Puff Daddy would agree. They give off vintage feels for the modern man or woman, and simultaneously boast clean design and a tough image.
History of Aviator Sunglasses
These "pilot's glasses" were originally developed to protect the eyes of navigators against the sun at the highest altitudes. Making the frame out of the lightest metals was vital as they were to be worn for an extended period of time while in flight. The oversized, oval G-15 glass lenses were ideal for completely covering the eyes to block out the sun and haters alike. Both major keys: all for the clarity, all for the comfort. Now also for the style.



Aviator Sunglass Styles
Over time, the aviator frame has evolved. The San Miguel and Harbor are modern takes on the timeless look, evoking oversized confidence and class. An angular alternative to the traditional aviator shape, the San Miguel features a unique acetate Windsor rim that lends an authentic retro vibe. Sleek, lightweight, and refined, the Harbor is long on style and wearability. Crafted with Sports Utility Vision lenses that maximize contrast for improved depth perception and visual clarity, it's designed with the outdoors in mind—whether you're hitting the links or hitting up brunch. For a statement aviator frame, Convoy Sun is an oversized metal aviator in an early 80s-inspired angular shape with a crystal brow bar, perfect for those who need a little bit more.



Styling Tips
Want to know how to pull this look off? Lightweight aviator styles, like the Linnie eyeglasses or the San Miguel—which is available as both a sunglass and eyeglass—are super versatile, making them easy to wear with different fits, styles and materials. For those warm summer days in LA, the San Miguel looks great with a pair of vintage jeans and an oversized button down. For those brisk NYC nights, the Linnie looks equally bomb with a leather jacket and turtleneck to layer, gold chain optional. For the Harbor, throw on a pair with a camel overcoat, your favorite pair of denim and vintage tee for a look that will always command attention. Or go full Sarah Connor and throw an army jacket over a black tank and skinny jeans, and finish it off with some Doc Martens or combat boots. Whether kicking back at brunch, lampin' in the Hamptons or heading to LAX via JFK – GLCO's got you covered with a timeless look. Aviators are forever fly.


SHOP THIS STORY
---