Sunglasses

Eyeglasses

Sun Clips

Collaborations

Extras

Stories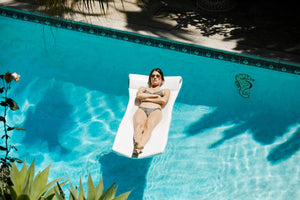 ---
Swimming Pool
A film by Armen Antranikian for GLCO
Interviewed by Elliot Aronow
---
Time moves differently in California. If it weren't for the changes in sunrises and sunsets every day, we might not ever know what month it is. We wholeheartedly love our "Endless Summers" but lately we have come to realize just how much the changing of the seasons can help us tune into our own rhythms and creative processes.
As we move from the fast paced energy of summer into a more reflective fall season, we thought it was only appropriate to celebrate this transition through the most Californian of all communication mediums, film.
Our latest short film, which features a selection of frames from our Fall 2021 collection, is a visual love letter to the parts of ourselves that never want summer to end, but are always ready to embrace the next adventure.
To help bring this vision to life, we teamed up with our friend, the director and writer Armen Antranikian, to make some timeless movie magic.
Here's a few words from him on how everything came together. We hope they inspire you to embrace the possibilities of the next season.
Tell us about your inspiration for the film. What were you looking to convey?
The whole project came together very organically, and I think that is reflected in the film. It was a fun challenge to create a rich narrative and tell a story in just a few seconds.
I really liked the idea of using a swimming pool as a vehicle for telling a story. It's such a California thing. There's also the romance and emotional content of the pool, the stuff explored by Joan Didion and David Hockney.
I wanted to highlight the main character's experiences by not only exploring her emotional life and her friction with her partner, but also the sensations one gets in the pool — the feel of the water, the warmth of the sun, the weightlessness of floating.
Can you share a cool behind the scenes moment from the shoot?
Well, one cool thing was the way we shot the underwater sequences. We literally put the camera in a fish tank and as a result, we got these beautiful sort of dreamy and misty effects. We think it might have been from the sunscreen the actress was wearing getting into the water. It was fun because there were all of these natural elements that couldn't really be controlled and they actually made the piece turn out better.
Do you have a favorite Garrett Leight frame? What do you wear them with?
For me, the Kinney is a classic. You can't go wrong with that frame and proportion. I like to not own too many things and so it fits in perfectly with my lifestyle. Versatility is very important to me, as is quality. I know they will look great in ten years.
What does California represent to you?
Like anyone who didn't grow up here, the first impression is always through movies and entertainment. And when you move here, that becomes your reality in a way. There's so much creative energy here and that does give it this sort of utopian feel. Even though it is a big city, it doesn't feel huge in the way New York does. It has a more local feel. It feels like anything is possible here.
---