Sunglasses

Eyeglasses

Sun Clips

Collaborations

Extras

Stories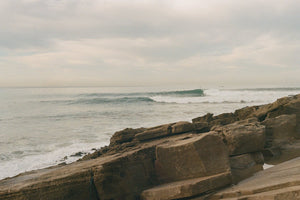 ---
Surfing Morocco
Daytrippers /April
Words: Helen Nishi
Collaborator Photos: Helen Nishi
---


Surfing in Morocco sounded like one of those very far away ideas to me. But to my surprise it showed up around the corner: ten of us, a big surf and the mystery about the passing of the new year in such a place. Landing in Casablanca, we headed straight for Marrakesh. We arrived at our riad on the outskirts of town, diving deep into tagines and wine from the Atlas Mountains. We found the Medina and walked through alleys of artisans, rugs, tea, crepes, and cats. Lots and lots of cats.




The next day we were on the road again, finding our way to Taghazout, a fishing village on Morocco's Atlantic coast with some amazing surf. Bombino seemed to be the soundtrack of choice. The surf around our empty apartment complex seemed amazing everywhere you looked: peaks and points, some deceiving big waves that looked surfable from shore but impossible to get in because of the intensity of the current.




The coast was full of men lurking around in jellabas; some sold tea, some sold jellabas, some rented their camels for money. It was hard to find beer, almost impossible, so my apres surf ritual was disrupted by Moroccan law. Plastic was everywhere. I've never seen anything like it. We got to Boilers, probably one of the gnarliest points in that area. I said no thank you, but our friend Jake went it alone with everyone watching from shore. We also hit up Anchor Point, Killers, Wells, Desert Point and Draculas.




Throughout our trip we had many of those moments where you think twice about facing the unfriendly ocean and its nervous currents. The water was full of grumpy French and English tourists throwing up from the food and the intensity of the waves. I definitely was more of a spectator on this trip, which left me with a feeling of unaccomplished surfer paranoia. Then it was New Year's Eve. We cooked a vegetarian meal I was so happy to be eating: cucumber yogurt salad with lime and herbs, steamed rice, picked radishes and onions, avocado tomato salad, chickpea mash and a vegetable tagine. We scored some wine and found some beer, gathering outside on the huge balcony by the ocean, counting down the seconds to two thousand eighteen. Our group had come from all over the world to be on that balcony together.




The next day we came across a herd of wild camels on the way to Imsouane, an incredible thing to see. The way was windy but we finally go to the little town and found a longboarding wave surfer paradise. There were hundreds of people in the water. It was kind of a surreal place—so far to get to and yet so many people gathered there from all over the world just to surf that point. Castles in the sand, castles in the sky. We were all surfing through Morocco in a dreamlike state.


---