Sunglasses

Eyeglasses

Sun Clips

Collaborations

Extras

Stories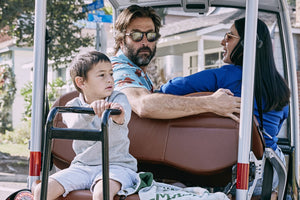 ---
Steve Malbon
Features /February 12, 2019
Words: Garrett Leight
Collaborator Photos: Joshua Spencer
---
Steve Malbon, 42 Occupation: Co-Founder of Malbon Golf, Frank151, Franks Chop Shop, The Now Massage Hometown: Virginia Beach, Virginia Residence: Manhattan Beach, California Handicap: 7 Home Course: Weddington Golf & Tennis Club, Studio City, California Steve Malbon is single handedly dropping bombs on the golf apparel community right now with his brand Malbon Golf. Officially launched in January 2018 as a direct to consumer retail and e-commerce experience with a pinch of wholesale to a few lucky bastards, Malbon Golf is taking their show to the big time in 2019. The early success of Malbon, which was basically born on Instagram, proves that there is an appetite amongst the youth for change and quite frankly destruction in the golf industry. Steve is just the guy to spearhead it with his infamous streetwear and storytelling background from the early 2000's with Frank151 and Franks Chop Shop. If you don't know then you don't know, google it. But what really gets Steve featured in this publication is the man himself, not the accolades. Steve is fun, funny, a marketing wizard, a great dad, and a fucking maniac. Even though I don't always love golfing with him, I can't get enough of it, and that's why it works. Don't get me wrong, he's a great human, he's just extra competitive, insanely good at shit talking and getting under your skin, and gets visibly mad when he doesn't hit the ball the way he wants. Love him to death, but something tells me that we're never betting on another round again.

Where did you learn to play golf? Hell's Point Golf Course in Virginia Beach, Virgina when I was twelve years old. Who taught you how to play golf? Ivan Lendl two hand crosscourt backhand with topspin. If Lendl was right handed, would be the exact golf swing that I trained myself to swing. And then sooner than later people who worked at the golf course where I got a job, the kids in the driving range, car park, and the assistant pros, and other members started to take an interest. Describe your golf style… No risk, no reward. Press and pepper.

What would you like the future of golf to look like? My son holding the Masters trophy. What is your greatest personal victory in golf? When I won the member guest tournament at my dad's club, Cavalier Golf & Yacht Club. I also hit a thin five iron draw for a hole in one and won a $60,000 Lincoln SUV.

George Carlin said golf is an arrogant, elitist, meaningless, and mindless activity engaged in by White well-to-do male businessmen who use the game to get together to carve this country up a little finer amongst themselves. How does that make you feel? Agreed. It makes me feel WOKE. Ya know what I mean? What do you want me to tell ya? I'm woke. Is golf misunderstood? Golf isn't misunderstood, but it's got a long ways to go.
---