Sunglasses

Eyeglasses

Sun Clips

Collaborations

Extras

Stories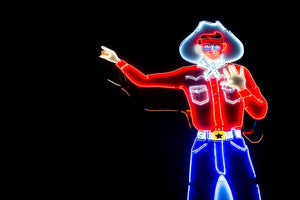 ---
State Fair of Texas
WORDS: Holly Jefferson
PHOTOS: Allison Smith
---

For the past ten years I've had a season pass to the State Fair of Texas in Dallas, and so have many of my friends. You'll find the people watching amazing, the Art Deco architecture awe-inspiring and the beer cold. The fried-food options are ridiculous and plentiful, the rides are crazy enough to induce fits of laughter, the exhibition halls are packed with everything from wares for purchase and a place to behold ribbon-winning displays from a myriad of creative arts – and it's the perfect spot to debate whether you're a bigger fan of the new or old Big Tex. The latter, a 55-foot-tall sculpture and fair mascot, caught fire and burned to the ground in 2012, on his sixtieth birthday. It's been a tradition to go on Opening Day "because the grease is fresh." Not that it matters. I'm as apt for a corny dog on Day One as I am on closing day. I hit the midway with my friend, another fair fanatic, to find why other folks love the fair, too. Take a look and listen in.


Best fair memory? Umm, probably the fried guacamole. Really? Your favorite memory is guac? Oh my gosh, it was really good and spicy, and had this great dipping sauce. Fave ride? I don't know its name, but it's a fun house that has a hall of bubbles that you walk through at the end. It's just full of bubbles. A must-see? The man that has no legs. It's a trick. I know the trick. It's a mirror, or something, so you can't see his legs. Old or new Big Tex? Old, his voice was a little creepy.



What do you think of this place? I love it! It's super fun and I get to eat everything, like turkey legs, fried cheesecake, and corn dogs. Are you here for the food or the rides? Food! I'm a big eater. What's the most money you've spent here in one day? OMG. Maybe about $180? Something like that. Wow! That's awesome! No, that's bad. I started off tonight with $100. I'm about to make another round. Any tips? Always come with an empty stomach. Other than eating, why are you here? The people, of course. And I love going to the car section. Daytime or nighttime? Night, because of the weather—it's too hot during the day. Plus, you get to see all the lights at night and it's just so pretty. What would your air-brushed T-shirt say? Turkey legs!



First time at the fair this year? I've been six times – I have a business across the street. Fave food? There are only a couple of things I'll eat, like the corn dog, but only Fletcher's because the cornmeal is better. Mustard or ketchup? Mustard only. Best ride? Crazy Mouse. Same here! Let's talk about this ride. It's a rollercoaster with lot of twists and turns and is very jerky. It doesn't look like a mouse—and the fact that it's a four-seater is critical. Finest fair memory? Bringing my kids here and watching them be enamored by its bigness, its light—so many amazing distractions. What's happening this second? Right over there is a conjunto band playing "Hey Baby, Que Paso," which I love.



What's it all about for you? I like the environment and the vibe. I used to come here when I was younger and haven't been here in about seven years. I live in California so being back here is very nostalgic. Food must-have? Ooh, cotton candy. I love cotton candy. Best ride? The Ferris Wheel. I like the height of it and how you get to see everything. Recommendation for fair newbies? Definitely the museums and exhibits. Old or new Big Tex? Old!



Total number of visits? Twelve . Why do you love the fair? The rides. Best ride? Techno Power. It goes around really fast and your seat spins and goes high in the air. It's scary and exciting. Once you get off you get really dizzy. Favorite Midway game? I'd have to say the balloon pop. How'd you win that massive dog? My dad won it at the basketball hoop on his sixth try, but he said it was really rigged because they push the hoop in and the balls are really heavy. What would your air-brushed T-shirt say? On the back it might say "Raised in Oak Cliff." Old or new Big Tex? New, because he's probably not going to burn down.



Why do you love the fair? Honestly, it just brings a lot of different people together. It's all about food and rides and having a good time. Must-have beverage? Sweet tea. Best fair memory? When Big Tex died. What? When he burned to the ground? That was awful. That was awesome. Why?! I never thought a statue could die. Old or new Big Tex? Definitely old! Good answer.


---