Sunglasses

Eyeglasses

Sun Clips

Collaborations

Extras

Stories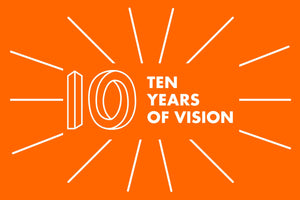 ---
Spring/Summer 2020: 10 Years of Vision
---
Spring/Summer 2020
"It's hard to believe that it's been a little over ten years since I began dreaming up Garrett Leight California Optical.
Since the beginning, the frames and the people have been the heart of the operation. Visually and aesthetically, I was deeply inspired by this incredible archive of vintage frames I was collecting and selling, as well as the classic images I scoured the internet for. Through the inaugural opening of the Abbot Kinney location in 2009, I met so many incredible and inspirational Venice locals who have become my friends, family, and subsequently, a part of the GLCO history, DNA and aesthetic. I remember being obsessed with the vintage eyewear my customers would bring into the store and share with me daily, and drawing inspiration from American icons like Hunter S Thompson and Arthur Miller. It was serendipitously aligned with this whole vintage revival happening at the time that was likely a microcosm of the recession.
My customers were seeking thin, acetate frames and timeless classic looks, like those worn by iconic American figures throughout numerous decades—styles that were inevitably hard to find. I began to design my first collection with this in mind. I remember sketching up the initial designs and my first trip to the factory to submit them. Receiving the first samples and having the perfect audience to test them on for fit and styling still stand as one of the most memorable moments in our history. In retrospect, it seems almost unfair and quite surreal to have had such a perfect setup. It was only natural to parlay that sentiment into the imagery of the brand.
For the years following the design of that first collection and still to this day, the experiences from the early days of the brand continue to be the inspiration for our designs and our brand. It is truly an authentic representation of the one-of-a-kind individuals in my community--what they wear, what they read, what they create, what inspires them and how that ultimately influences the world.
For our ten year anniversary, I wanted to pay homage to this as it's everything that our brand is today. The collection itself takes some of our best selling styles from our first collection and adds a subtle modern twist. The pages to follow are filled with those special and cherished individuals who have helped bring our designs to life over the past decade.
Besides the 10 year mark of starting this company, 2020 marks the most instrumental year in our existence, as it presents the opportunity to genuinely reflect on who we are and how we got here."
–Garrett Leight
In honor of our ten-year anniversary, here are some throwback photos to take you back to the early days of the brand.
---