Sunglasses

Eyeglasses

Sun Clips

Collaborations

Extras

Stories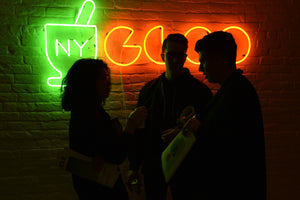 ---
---
To coincide with an eyewear trade show in town and our NYC themed Spectacle No. 7, we decided to throw a bash to remember at GLCO Grand. Yes, we know this was our 2nd event in a week, but when we're in New York – well, we like to get the party started.

One of the main features in the latest issue of Spectacle is by Matt Creed, Slim Love and Lukas Geronimas. They took a roadtrip from New York City to Los Angeles and documented it all on film. To accompany their photographs, they also created a trippy short film. And thanks to help from Matt Creed, we turned our basement gallery space into a screening area where guests could view the film, grab a beer and mingle with some peeps in the eyewear industry.
The store was packed: everyone was snappin' away and trying on our new shades for spring. We saw some familiar faces. Garrett, Elena, Amber, Jen, Ty and Will repped the GLCO crew while Julia from Gogosha dropped by, Charles (our Director of Optical) was in town from Europe, and Kerin Rose (featured in Spectacle) of A-Morir Eyewear dropped by to show support.
Scroll through to see if you were papped by our friends at Getty who took the official photos. Major shoutout to our drink sponsors PBR, Glenfiddich, Scribe Wine and Team Epiphany for the support. Thanks to the LA team for holding down the fort, Tyrell our store manager and all of our accounts who made an appointment to view our latest collection while we were in NYC. We'll be back with new Fall and Pre-Fall styles very soon! Like, sooner than you think. Until then - GLCO out!
---