Sunglasses

Eyeglasses

Sun Clips

Collaborations

Extras

Stories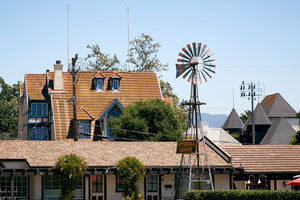 ---
Solvang
WORDS: Patrick Sullivan
PHOTOS: Joshua Spencer
---
No One Cares About Solvang

The quaint albeit kitschy little Danish town of Solvang rests just north of Santa Barbara, a short jaunt down the road from the 101 in the golden rolling hills of the Santa Ynez Valley. These days the area garners fame for its upscale food and wine. Sanford Winery and The Hitching Post Steakhouse helped inspire the book and movie Sideways, a story about middle aged white men trying to get their groove back over expensive wines and ribeyes. But on the surface Solvang looks a little different than that. It's a small town of less than 6,000 people that seems like it has always been there, quietly gracing California's El Camino Real with the allure of some small Europhile adventure for those road tripping along the highway. Even before the Spanish missionaries colonized the area and established Mission Santa Ines in 1804, it was the Chumash Indian village of Ahajalapu. An idyllic location, with mild weather nearly year around, Solvang has always been one of California's best known little secrets.



For most, Solvang's reputation is built around its Danish heritage. When I think of Solvang it conjures images of windmills and people who look like they're about to do a live read of The Sound of Music. The Danish thing all started in 1911 when three ambitious immigrants fulfilled their dream to move out West, away from the harsh winters of the Midwest (not to mention Denmark) to start a Danish community in California. They bought 9,000 acres for around $40 an acre (about $1,000 today) and established Solvang, Danish for "sunny field." Since then, the city has remained an oasis for Danes and those seeking early morning pastries. Most of the buildings were built in a typical California style but had Danish architectural facades added later, which were often rebuked by actual Danes. If you're looking for a photo op with a fake windmill or some colonial stocks, you've found the place.




It sounds pretty good, doesn't it? A beautiful little hamlet nestled into the rolling hills of the Central Coast, sign me up. However, the price for your own piece of Denmark in California is quite a bit steeper these days than a stack an acre. So what, I guess; it's not really the kind of place where people are trying to find work unless they really want to live there. The city's number one employer is an old cattle ranch turned swanky "Guest Ranch & Resort" known for entertaining city-breaking Hollywood celebs. Most other people work in town related jobs like the school district or the Lutheran Church.




So most of us will only ever stop in Solvang for an hour, look at some stuff, eat some danishes, get gas and move on. But that might just be enough to experience Solvang's hygge. Hygge is a super Danish concept – it basically translates to coziness, but my understanding is that it involves curating comfort and taking time to enjoy yourself and those close to you. This is exactly what you're trying to accomplish when you pull your carload of people off the highway for some R&R. Solvang has cute stores, tons of sidewalk seating, free parking everywhere, and just a good attitude overall. Most importantly, Solvang is a much a safer roadside pit stop than the diarrhea-inducing split pea soup at Andersen's just five minutes up the road.


---