Sunglasses

Eyeglasses

Sun Clips

Collaborations

Extras

Stories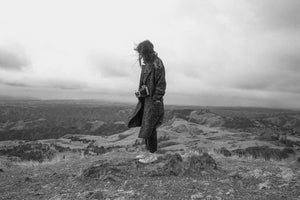 ---
Santa Ynez
WORDS & PHOTOS: Justin Tyler Close & Anouk Aumont
---

Our impulsive getaway started out on the 101 driving north. Originally the plan was to stop in Ojai, but the recent catastrophic fires deterred us. The mountain sides were suddenly bare and charred palm trees stood tall and naked. We continued north, arriving late afternoon at the infamous Madonna Inn. After settling in our rose-themed "Mini Maxi" room we headed to the courts for some tennis and basketball. At dusk we showered in a cave and then napped by the fire.



The night was eccentric, you could say. Some proclaim to avoid seafood at a steakhouse, so what did we do? We live on the wild side! We shared the salmon dish and microwaved apple pie, sipping on Manhattans and swing dancing with the locals. We did practically everything they had to offer.




The morning after, we took a dip in the empty pool and headed back south towards my home in Santa Ynez. We spent a few days in the valley, relaxing and doing nothing but eating endless amounts of cheese, hanging with the family and drinking the magical red juice. On an especially clear morning we set out to climb Fig Mountain. It overlooks the valley's rolling hills and massive Cachuma Lake. When we reached the peak we stopped to tumble around in the tall dry grasses, listening to the echoes of cowbells and eagles hovering above our heads.




We spent our downtime meandering the grounds of Pepper Hill Farm, climbing persimmon trees and juicing the recently ripened citrus. In the afternoons, we hung out at the stable situated in a large oak grove, home to two beautiful Friesians, Romeo and Floris. We watched every sunset. We went for walks with our cameras, shooting film, leaving our phones behind.


---