Sunglasses

Eyeglasses

Sun Clips

Collaborations

Extras

Stories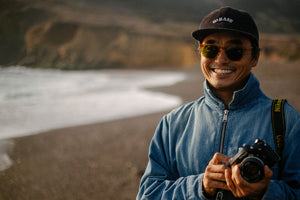 ---
Rip Zinger
The Japanese photographer, chef, athlete, and global nomad on how to start your day when your day could start anywhere.
---
By Rip Zinger
When you're in your house, in your country, you can do whatever you need to do, and carry whatever you need to carry. But when you're on the road, you have to scale down.
Lately, my theory of healthy eating is not eating. Fasting. I've been fasting on a mostly powder diet for several months. I take a lot of oils, and water, and salt. If I get those, I'm good with the daily hunger. The body is able to rest and heal when it isn't processing a bunch of food. Taking it back to hunter and gatherer societies—those people were hungry while they were doing the most extreme levels of exercise. Not eating makes people smarter, lighter and it's a lot cheaper!
I make a boiling hot water the night before in a thermos, and put it next to my pillow. When I wake up, the first thing to do is drink the water before you even get up from bed. Before you touch your phone, just drink. The warm water is like a switch to your body to go to the toilet, and then I take ten minutes just sitting there, maybe having a bit more hot water while I'm doing my business. Reading a book maybe. I spend the time preciously, because it's a ritual: Saying goodbye to yesterday.
Make a tea when I get out of the restroom-sometimes I boil ginger and turmeric sliced, and put some Hanah One in it. Sometimes I just open a capsule of turmeric and make a latte with coconut oil, MCT oil, Ghee, black peppers and cayenne. On the way to the mountain, I try to sit and meditate, but I don't force it.
Snowboarders and skateboarders don't eat very good: in the refrigerator is beers, and in the freezer is frozen pizzas. A few years ago during a weeklong Superpipe event, I started cooking for the guys traveling in my van. I made kale salads, granola, kabocha squash, and fresh fruits and juices. At the end of the day, all the other guys in the competition were so tired, but my van was killing it. I saw then I could be useful in a new way — now I travel around cooking fresh meals with local vegetables for the friends I'm crashing with.
I wasn't always a healthy guy. I didn't care about what I was eating and my body suffered. In 2014 or 2015, I broke my collarbone a couple days before Gerry Lopez's Big Wave Challenge. Gerry came in and goes: "You're still going to compete, right?" That was when I learned that if you want to play hard, you have to take care of the body, too. Some of these guys I hang out with: Terje Håkonsen, I need yoga to be balanced enough to play with him. Rob Machado, to play with him I need meditation. So I've been on a journey to find my deeper, more centered self. That's how I can be most helpful.
In partnership with HANAH.
Photography by Ando
---