Sunglasses

Eyeglasses

Sun Clips

Collaborations

Extras

Stories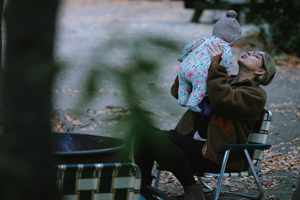 ---
---
There's a long list in response to, Who is Rick Rodney? Photographer, creator, musician, actor, father and husband, adventurer. One could say he's lived many, separate lives but as he puts it, it's all interconnected. It's informed parts of who he is and reflects on how he treats others. From growing up in Southern California adventuring and camping with his parents to life on tour with his hardcore punk band, STRIFE, Rick credits both his childhood and hardcore scene with his morals, ethics, and compassion.
"At an early age, punk and hardcore advocated equality amongst everyone and it advocated trying to be the best person you could be. I've always tried to be an open-minded person who lives my life in a peaceful way. It's a blessing to grow up listening to the music and being involved in that music."
This philosophy carries over to his 30 year career as a fashion and commercial photographer, shooting for brands like Vans, NEIGHBORHOOD, Red Bull, The Standard, and, of course, Garrett Leight.
"You have to treat people equally, make sure people are comfortable, and have an open line of communication. There are a lot of horror stories with photographers and I don't want to be one of them. I want to always be professional no matter what and respectful."
Though at first glance, his photography style possesses a unique "Rick Rodney" quality, he's quick to note that he doesn't strictly adhere to a set style. His approach is about creating a comfortable, free flowing vibe on set that allows everyone involved to infuse their true selves into the project — where that lands them is open for collaborative inspiration. "I love happenstance, I love happy mistakes, and I love experimenting. I'm pretty open minded when it comes to experimenting or trying new things."
And now as a dad to a four year old and five and a half month old, he's spending more of his free time adventuring, mountain biking, and camping with his family. Going back to his childhood pastime is trickling into his photography as well – he's planning on shooting more outdoors and allowing his hobbies to inspire his photography.
"It's funny, it's taken 40 years for it to come full circle."
SHOP THIS STORY
---