Sunglasses

Eyeglasses

Sun Clips

Collaborations

Extras

Stories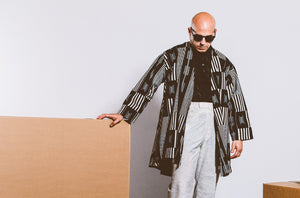 ---
Rick Klotz
Features /September 8, 2015
Words: Yasi Salek
Collaborator Photos: Rick Rodney
---
Colluding with Rick:
What the fuck is really going on?

They don't make 'em like Rick Klotz anymore. The visionary founder of iconic streetwear company Freshjive has long been known in the industry for blazing his own trail, reinventing the brand over the course of two decades before moving on to launch cult beloved brand Warriors of Radness. WOR, with its mod cuts, unique fabrics, and boutique distribution, was unlike any surf clothing line before it, and earned Klotz a CFDA Best New Menswear Designer nomination in 2011. When he's not working on various top secret projects around the world, you can find the SoCal native cutting a striking figure around Los Angeles in a vintage kimono or sequined jacket, one parrot earring dangling in the wind. His outward appearance belies an exceptional intelligence and devotion to history and pop culture that makes Rick Klotz a cultural high priest in a world full of fashion sheep. We sat down with the eccentric modern day dandy and asked him his thoughts on personal style.

How do you define personal style? I'll say it's a distinctive manner in one's appearance and actions stemming from their unique DNA and life experiences; one's substance, so to say. Personal style without substance is like a pretty car chassis with a gutted interior and no motor, or a silicone sex doll, or a rubber bulletproof vest, or a frosted cake made of styrofoam, or a famous reality TV star with no acting skills.

How would you describe your own style of dress? Contrarian. Off-center, deviant, collusionary, illusionary, and capricious. Where do you get inspiration from in terms of your own personal style? World history and personal experiences. Who are some of your personal style heroes? Oscar Wilde, Esquerita, Benny Moré, Emiliano Zapata, Peter Berlin, and Tom of Finland.
Style without substance is like a pretty car chassis with a gutted interior, or a silicone sex doll.

What are some tips you would give to someone who needs some style guidance? See answer #1. If you still can't channel what I mentioned like Luke Skywalker channeled the Force, then I suggest you contact The Style Guide Dogs of America (SGDA) as they could probably help out. Their mission statement reads, "The SGDA is dedicated to providing shopping guide dogs to the stylistically challenged and wardrobe impaired." Tell them @trickyrickyfoficky sent you.
---