Sunglasses

Eyeglasses

Sun Clips

Collaborations

Extras

Stories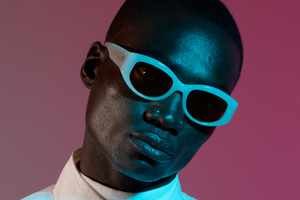 ---
Retro Biggie
Unlike other classic frames like the aviator or the wayfarer, the origins of the wraparound are mysterious and unclear - which is fitting for a silhouette that has long been coveted for being sumptuous, elegant, and just a little bit unknowable. 
---
The enduring appeal of the wraparound is that it combines glamor and mystery with just the right amount of futuristic glam. It's no wonder this silhouette has been a favorite of elegant entertainers and jet setting models ever since it arrived on the scene. 
The first golden era of the wraparound occurred around 1965, when it was popularized by Stevie Wonder and various members of the Rolling Stones. Back then, it was jazz musicians, rather than rockers, who were at the leading edge of the sartorial pack. Clean was very much in. Both Stevie Wonder and Brian Jones of the Stones were often photographed wearing the natty tweed blazers and sharp tailored trousers that were favored in underground jazz and R&B clubs with a pair of jet black wraparounds— all the better for keeping smoke out of your eyes, right?     
In the '90s, wraparounds were made hot again by style gods like Lenny Kravitz, Madonna, and most famously, Kate Moss, who was rarely photographed without a pair during the height of her globe dominating popularity. With Moss, the wraparounds provide a sartorial connection between the retro-obsessed edginess of cool Brittania circa 1995 and the optimistic progressivism of the British Invasion thirty years earlier. It's a vibe. 
Our Retro Biggie Sun frame joins the conversation that started in the '60s with Stevie Wonder and was expanded upon by Kate Moss in the naughty '90s with its clean, modern take on a thick, retro-inspired wraparound frame. In addition to its ergonomic ear shape, the Retro Biggie also features triple pinned temple details and comes in a range of eye-catching colors like ecru, merlot, and vintage burnt tortoise. We don't want to say more than that, lest we give up the mystery of these jazzy, timelessly elegant frames. 
---