Sunglasses

Eyeglasses

Sun Clips

Collaborations

Extras

Stories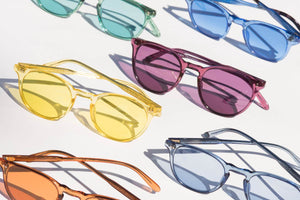 ---
---
See the Rainbow, Wear the Rainbow


We're making it rain all the colors of the rainbow. Our retail optical labs have specially dip-dyed our favorite frames for a matching frame and lens combo in any color you can think of. So get ready for the longer days ahead with a rainbow bright look you won't see on anyone else this summer.




Choose from your favorite GLCO classic frames like Kinney, Clune, Clark and Morningside – basically any GLCO frame that we've issued in a champagne colorway. The frame is paired with our high-quality CR-39 lenses, which we use for premium visual acuity and UV protection. From there, our lab associates will work their optical magic to create a custom monochrome pair for you. And while you're there, our retail opticians can also fulfill your prescription, matte your acetate, or make a custom sunglass clip for your most loved frames.




The Rainbow customs are made in our stores according to design driven guidelines. While our lab team cares about visual consistency with strict quality control standards across all custom jobs, remember that variances are a natural part of the customs game. Just like your custom color, your dip dye will be unique as each are custom made-to-order and hand-dyed.




So head to a GLCO store before summer hits full swing and get your ROYGBIV on. Limited time only, peeps. Please note all Rainbow custom frames are final sale, with no returns.
VENICE, LA: 310.392.3225 / abbotkinney@garrettleight.com LA BREA, LA: 323.931.4018 / labrea@garrettleight.com HAYES, SF: 628.444.3110 / hayes@garrettleight.com GRAND, NY: 917.262.0955 / grand@garrettleight.com AUSTIN, TX: 512.584.8030 / austin@garrettleight.com BROOKLYN, NY: 347.689.3856 / brooklyn@garrettleight.com GLCO HQ: 310.392.2100 / hello@garrettleight.com
---