Sunglasses

Eyeglasses

Sun Clips

Collaborations

Extras

Stories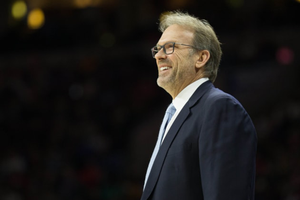 ---
---
Garrett Leight: Can you add a little color to what it was like playing basketball in the West Coast Conference in the '70s. Your stats there were pretty incredible from your freshman year all the way through senior year. But I imagine back then, the smaller conferences were pretty unknown entities, not often televised how we see today. What was the competition like? Gyms? Sponsors?
Kurt Rambis: When I grew up playing basketball at Santa Clara University in the late '70s, Santa Clara University was a small school in the West Coast Athletic Conference. But there were some pretty good teams there. All the arena gyms were small, probably 5,000 or less capacity but the fans, the student body showed out for every single game that we played. There was a lot of competition in that conference. In fact, the University of San Francisco was ranked number one in the country in the '76- '77 season and they had a tremendous recruiting class with Bill Cartwright, Winford Boynes, and James Hardy. Probably one of the best recruiting classes of all time for collegiate basketball. But in our conference, the competition was tremendous and it was a lot of fun to play in those small arenas — the fans were right on top of you and the student body was always cheering for the home crowd. It made it a very intense, competitive environment. 
In terms of sponsors, I don't think there were any sponsors at that point in time and we certainly weren't on television, that I recall. So a lot of things have changed in that conference and a lot of growth has happened. But you know there was still competitive basketball at that point in time.
GL: Coming from that experience, then going over to Greece to ball, and then landing your feet with the razzle dazzle Lakers, that really seems like it must have been a culture shock, can you describe your feelings at that time? Were the bright lights a little blinding?
KR: I was drafted by the Knicks in 1980 as a third round draft pick. The NBA only has two rounds now so being a third round draft pick and making it into the NBA was a little bit unheard of. There were 11 man rosters at that time and so I didn't make the Knicks team. I had an opportunity to go over to Greece and play — it was a tremendous experience for me maturation-wise, basketball-wise, a lot of growth, a lot of improvements. When I was playing in the summer league with the Knicks, some of the Laker scouts saw me play. When I came back from Greece that year, I was playing in a summer league in San Francisco and one of the Laker scouts asked if I'd like to try out for the Lakers. They had Mitch Kupchak who just signed a 15 year deal to play for the Lakers, Mark Landsberger, Jim Brewer on the team so I didn't see any space for me to make that roster. I told them no. Then several other employees of the Lakers called and asked if I would like to come down and try out. Even Jerry West called and I told him no. But finally Paul Westhead called and said he liked the way I played defense, rebounded the basketball, and he wanted an up tempo sort of style of playing for the Lakers. Magic Johnson was on the team at that time so we needed somebody to solidify the defense and outlet passing and rebounding. So I said what the heck, I'll give it one more try to go down there and try and make it in the NBA. But I really didn't think I'd make it. That year they increased rosters from 11 to 12 men and I was a 12th man on the roster. Ended up starting about halfway through the season, we won a championship that year, but I certainly was not somebody that fit in in terms of my style of play and how I looked out there on the court. But I fit a role and I played my role really well and it worked for the team. We ended up winning a championship that year and it was an awful lot of fun.
GL: You are known for being the blue-collar sort of enforcer of an otherwise pretty flashy team. How did you manage to stay true to your basketball identity?
KR: When Paul Westhead had asked me to come down and try out for the Lakers, he said he wanted somebody to focus on rebounding, focus on outlet passing, and focus on defense. If I did those things I'd have a great opportunity for making the team. And those are all areas of the sport that I enjoyed playing anyway. Of course everybody likes to score, that was part of my game as well in college, but in order to make it in the NBA, if I had to focus on those three areas to be a professional athlete, I was more than willing to focus and sacrifice in those areas. It was a much needed role for the Lakers — we wanted to run, we wanted to be an up tempo basketball team and those three areas were integral as part of our success. So it wasn't really hard for me to focus on those areas. It got me paid, it got me championships, and I was more than happy to do those. I really enjoyed playing defense against somebody and letting them know that they were going to have a frustrating night tonight. 
GL: You definitely developed a specific identity on the court, was it a little different off the court? You didn't have to be famous in 1980's Los Angeles to find a damn good time, and even though I'm sure much of what we've seen on entertainment television is pretty fabricated, being a Laker in the 80's had to be a riot. Can you tell us anything? 
KR: It was so much fun being a part of the Lakers in 1980. The growth of basketball in the NBA was growing exponentially. Regional sports networks were coming in to existence. So now the popularity of the Lakers was expanding because people could see us play all the time, across the country. And we were winning basketball games, we were winning championships so we were the team. We were the Barnum and Bailey of the NBA and everybody wanted to come out and see us play. Everybody knows culturally in the '80s there was a lot of things going on — tremendous growth in terms of the popularity of basketball but also having a good time on the court and off the court. I'm not going to get into details about a lot of stuff that went on but needless to say there was a lot of fun to be had for us professional athletes. 
GL: What was your style off the court? Were you a uniform kind of guy, like jeans and a t-shirt. Being around all that in LA at that time had to have some influence. Any regrets on style choices you made back then?
KR: I was often highly criticized for my choice in style. My style revolves solely around comfort, I don't know if I had a style in terms of clothes. It was just about whatever was comfortable, so if it was jeans and a t-shirt and sandals, that's what I'd wear. I wasn't too much into fashion. I had my suits like everybody else for special occasions, but in terms of just going to games, after games, and hanging out at home, it usually consisted of jeans, shorts, sandals and T-shirts.
GL: How did you land on that specific pair of glasses? I don't know if you know this, but that frame is a classic shape and iconic style. It's much more common to wear these sport styled glasses, but you wore a classic vintage styled 50's frame. Love that, how did that come to be?
KR: I was playing football, basketball, baseball, wrestling and needed glasses to see. But I was constantly breaking them, so my dad was always lugging me down to Gemco — a local retail store — to buy new glasses. He got so frustrated one day, he asked the optometrist if they had an unbreakable pair of glasses. The guy said, "Funny that you ask, I just got these glasses in." The temples folded out, there was a rubber piece on the nose, and he slammed the frame on the ground and they didn't break. My dad said perfect, grabbed them, put my prescription in there, slammed them on my face and said, "Here, you wear these all the time that you're playing sports." So it wasn't about style, it was about functioning. Tt was about my dad not having to drive down to the local store and get me new glasses once a week.
GL: Back to basketball, how visceral was the hatred for the Celtics? Was the feeling massively different when playing them vs. anyone else? How are you with those guys today? Can you laugh about it all? Or is it still competitive in a way?
KR: I absolutely loved playing against the Celtics, whether it was a regular season or the playoffs. They were such a good team and we were an exceptional team. You can't be a professional athlete if you don't love competition. I would rather play against the best teams night in and night out then be in any other sort of competitive environment. They brought out the best in us and I believe we've brought out the best in them. East Coast, West Coast, Larry Bird, Magic Johnson — two iconic franchises fighting for the championship level and trying to outdo each other. Who's going to have the most championships? Even the ownership of the respective ball clubs were highly competitive and wanted to beat each other. It just made for a tremendous environment to play basketball. Their fans hated us, our fans hated them. It was a joy to play against them. But in terms of being friends, if we see them out there in the basketball world, we might say hi but you don't hang out with those guys. There's still a lot of hatred in Los Angeles for those green jerseys and I'm sure it's the same way in Boston for our purple and gold. 
GL: I don't think a lot of people know that you were the original "Superman" nickname in the NBA. Does that nickname resonate with you? You didn't feel like saying anything when Shaq called out Dwight for that?
KR: I thought when I got the nickname "Superman," it came more out of the Clark Kent component with the black glasses I wore. I had a tremendous joy for that nickname. People called me "Superman", they still want me to write "Superman" when I sign autographs. Shaq, ehh — he's a lot bigger than I am, a lot stronger than I am so he probably deserves that moniker more than I do. But if somebody else wanted to take it, if Dwight Howard wanted to take it, that was OK with me. I did tell Dwight one time when he said,  "Yeah, I'm Superman," I said "Ehhh, you're Superman #3. I was 1, Shaq was 2. and you're 3?
GL: Greatest Dynasty Ever?
KR: In my opinion, the Lakers are easily the greatest dynasty in all of sports. We had a tremendous team of young, talented players, All Stars, Hall of Famers. But what was interesting about our team is everybody was willing to sacrifice for the benefit of the team. Magic could have easily scored 40 points a game, but we probably wouldn't have been anywhere near as successful. And Kareem and his ability to rebound the basketball and accept a role on the team in terms of being the the focal point of our offense but letting other players score as well so that the defense had a lot of trouble trying to figure out who they were going to have to focus their attention on. But we sustained our ability to win, we were a tremendous team, a competitive team. Even in the regular season, we saw the best out of every single team that we played so we had to be on our A game every single night. Sustaining that effort is extremely difficult over a long period of time so the success that we had not only in the regular season but in the playoffs, in my mind, we are the greatest dynasty of all time.
GL: This is random, but personal, my jersey number was always 31. How'd you land on it?
KR: It was just a fluke how I ended up with jersey #31. I wore #32 in college and didn't have really any sort of attraction to a number. When I was going to try out with the Lakers, they asked me about what number to wear. I said, "I don't know."  I didn't care what the number was and they said, "Well what number did you wear in college?" I said #32 and they said, "Well, Magic has that." I said, what about 33? And they go, "Well, Kareem has that." So I went, OK well let's go the other direction. What about 31, is that available? And they go, "Yeah, that's available." And I go, "OK. 31." That's how it came about. 
GL: I'm a big Lakers fan and like many of us, Kobe's passing was tough. Any stories you can share to bring a smile. 
KR: When Kobe was a rookie, I would work out with him before practice. After practice, we would have conversations about basketball, he would always look at my fingers and make fun of me for my fingers that are just gnarly from dislocations on multiple fingers, multiple times. I told him, "Don't worry Kobe, you're going to end up with fingers just like mine." And he said, "There's no way that's going to happen." I left the Lakers for several years and when I came back, he ran up to me and we compared fingers and we just laughed at it because we almost had the exact same hand after several years playing in the NBA.
GL: That's all I got. Thanks so much for taking the time and very honored to work with you on this project and share some of your history with our audience. 
---