Sunglasses

Eyeglasses

Sun Clips

Collaborations

Extras

Stories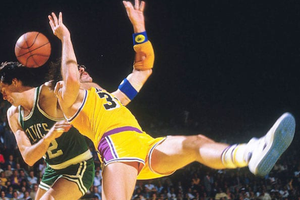 ---
Protect Ya Specs
Words by Ryan Teng
---
I've only been to the optometrist twice in my life, so I don't know a lot about eyewear, but I do know a good amount about basketball. My dad and I bonded over decades of watching the LA Lakers go from Showtime to Triangle-time, and it was fun to specifically see Kurt Rambis go from four-eyed warrior to 7th Heaven acting coach to Lasik enabled real-life coach.  And as we continue to realize that all new things these days are nods to the past, let's take a closer look at the dribblers who made function into fashion.
The Wallace in the Palace
Not only did fellow Pistons teammate at the time, Chauncey Billups, say that Ben Wallace looked like Blankman in his in-game shades - his coach said his "goggles" brought energy to the team.  As the first undrafted player to make it into the Hall of Fame, Big Ben's force on the boards could only be defined as tenacious, while his free throw percentage was less of an accolade. And these bright red frames continued to live in infamy after his career, when he joined the Red Glass Movement - an organization focused on using red-colored eyewear to help those with Down Syndrome. He currently is still working with the Detroit Pistons as a co-owner and chairperson of their G-League Team.
Bo Knows Style
Bo Outlaw is often forgotten for his athletic defensive prowess, but is not forgotten for his unorthodox shield-style glasses and free-throw shooting form.  From dunks to blocks, Bo's jumping ability could not overshadow his unmistakable trademark sunglasses in lieu of goggles - which made him iconic in his choice. He now serves as the Orlando Magic's Community Ambassador where his passion is mentoring kids on the daily.
 Kurt on the Court
One of the most iconic times during the Jerry Buss years in the Forum was the Showtime Lakers and wow they wore a lot of eye pieces. Kareem with his goggles and James Worthy with his Outlaw-inspiring shield frames, and of course Kurt Rambis deciding to just wear his eyeglasses straight up. It was a bold choice, but proved effective as he battled down low with opponents, including the clothesline arm of Kevin McHale of the rival Celtics.  Many Lakers legends continue to work within the organization after they retire, and Rambis was no different where he not only coached the Lakers in 1999, but rejoined in 2018 as a Senior Basketball Advisor.
As I was researching the three legends, I didn't think that I would find unavoidable similarities between all of them:
All three athletes had atrocious free throw percentages

All three athletes were known for their tenacious rebounding and effort on defense

All three athletes continued to work with their organizations post-NBA retirement
Seems like the glasses didn't give them better vision at the foul line, but it did provide a long career and loyalty to their teams well beyond their playing years. Not only should we look to them as style icons as we reinterpret the past, but also for their exemplary roles as human beings hoping to make a change.
---