Sunglasses

Eyeglasses

Sun Clips

Collaborations

Extras

Stories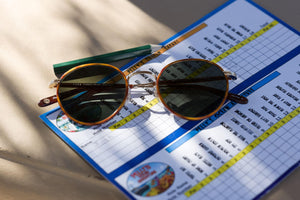 ---
Pelly's Putt Putt
Daytrippers /February
Words: Damien Fahrenfort
Collaborator Photos: Greg St. Johns
---
Growing up in South Africa, our local mini golf course was pretty basic. It didn't have water hazards, windmills, or even hot dogs for that matter. But it was pure in how a real golf course is pure—few elements, but challenging. It wasn't until I moved to the USA that I experienced extravagant mini golf ranges, and I'm not talking about Boomers, because let's be honest, Boomers sucks. There are few things I remember from before the age of ten. I remember my parents' divorce, winning my first surf contest, and mini golf, or putt-putt as it's called in South Africa. My cool uncle Kev introduced me to the game. Kev lived a block and a half from our local course and after a surf with my dad, we'd go over to his house, grab our putters, and walk over for a round. We always brought our own clubs because the club rentals were complete crap and had some sort of soft plastic lining around them that made it more challenging than it already was.

Josh with his wife and two kids have called San Diego home for more than 10 years. He's become a bit of a hometown hero, and recently inked a deal with Travis Mathew, the first surfer to ever sign a major deal with a golf brand. He tells me he met the founders over beers one evening, and they digged his program. These days Josh spends his time chasing monster waves, putting on world tour air show surfing events, and investing in businesses. After his huge success with local craft beer company St. Archer Brewery, Josh and a few other friends (world surfing champs Mick Fanning and Joel Parkinson) from the Gold Coast started their latest venture, Balter, a craft beer company in their home town that's already seeing huge success. I picked Josh up at his house in Carlsbad, and although he's never been to Pelly's, he knows exactly where it is. You can't miss it if you've ever driven to San Diego. It sits right off the 5 freeway in Del Mar. Josh is excited and wished he had brought his 11-year-old daughter who not only surfs and skateboards at a world class level already but is also getting recruited by club pros for her swing on the range. We roll up, grab two clubs and balls for $18 bucks, and head out. There are two 18 hole courses to play, Ocean Adventure and Surf Safari. Naturally we chose the latter. The courses were designed in partnership with the Surfrider Foundation and Birch Aquarium at Scripps to not only entertain, but also educate participants about one of our most precious resources, the ocean.

The course starts off at the birthplace of surfing, Hawaii, and the names of each hole change from names of surfing maneuvers to local surf spots. The felt, or greens, are in great shape and are blue because that's the color of the ocean, duh. They start off simple and progressively get harder. The course reminds me of the course I grew up playing, not too fancy and just good, clean fun. They're basic but tough. It's about the surroundings not the holes. Broken surfboards from former local pros line the walls, and everyone's favorite hole is number 5 where you have to putt through a huge barrel, the most coveted move in surfing. As a core surfer, I'm impressed by realism, and, much like the move in surfing, you've got to shoot the tube and make it out to the other side. My competitive spirit kicks in right away, and I think to myself, "Shit! I should've brought my Newport." Putt-putt is infuriating but somehow always a good time.

The whole Pelly's Golf facility is a physical representation of San Diego. Everyone is relaxed, friendly, and not fazed by us snapping pics and running around the course like hooligans. Pelly's has possibly the best hotdog I've eaten in the USA, and for 8 bucks you get fries and a drink too. If you're into van life and want to make a weekend of it, there's an RV park next door where you can post up for the night, and the beach is less than a mile away. The waves are good there, too. Hit it at the right time of year, and you'll get to bet on the ponies at Del Mar race course. But that's for another Day Trippers.
---