Sunglasses

Eyeglasses

Sun Clips

Collaborations

Extras

Stories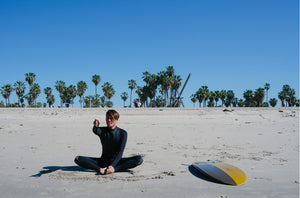 ---
Mixtape No. 22: Paul T.
Photos: Mike Selsky
Words: Garrett Leight
---
Paul T.
Paul T
Paul Takahashi says food is stupid and that the only reason people go to parties anymore is to hook up. According to him, no one at the parties he was into in the 90s cared about hooking up and the only things they ate were good and clean drugs. In the 90s and well before then people went for the music, nothing more. All the other stuff just completed the picture. It didn't matter if it was hip-hop, electronic, or other; as long as the sound was perfectly vibrating your soul, nothing else mattered.

The first time I met Paul T was at my store opening on Abbot Kinney in 2009. Actually I don't recall meeting him as much as seeing this little Asian guy in a studded leather jacket dancing by the DJ booth and trying on women's sunglasses the entire time. Paul T is an anomaly because while he doesn't really give a fuck, he also has strong opinions that just bum him out. It's hard to blame him; Paul T came up at a time when partying was everything. A time when there were actually interesting things to do at night. Everything was more interesting, even in the daylight. Just getting dressed meant more, or less; that was the point. You did things for yourself because you genuinely needed them to fulfill your happiness.
For all intents and purposes, Paul T is not really a DJ; he DJs, but it's so much more than that. Paul T is a curator of live musical experiences, which more often than not doesn't even put him behind turntables. Paul T understands sound and vibration at the deepest level and knows musical talent the second he hears it, the second he sees it. Paul T might be known for "bringing" DJ Harvey to the States. But that point of view doesn't say enough; ultimately Harvey made the decision to bring himself and his family to California. But Paul, Paul inspired the environment, created the platform, and made things happen! I can tell you the story of when Paul T first heard Harvey high out of his mind in a San Francisco club. But I won't because you don't care. I could go into detail about Paul T's early days skating around Hollywood and working at X-Large, the true original skate lifestyle shop, aka "streetwear." I could share the history of the legendary brand he created, Sarcastic, which eventually became Sarcastic Disco. But come on, you know you don't care. That's the problem, nobody cares anymore, they just want to hook up.

People like Paul T who crawled under turntables at his favorite nightclubs just to see what the fuck the DJ was doing that made the music sound so incredible — they don't get your attention anymore. People don't care about history today. It's not about pioneers that paved the way. People think everything is here just because. They assume they know everything they need to know because their smartphone told them so. So on behalf of Paul T, we don't want to enlighten you. Let your party suck because you don't even realize it. What's the point in building it up just so you can tear it back down with your commodification, with your marketing, with your sponsored lives.
If there's anything to learn from Paul T, it's that he's doing it the way he does it. It may not be right and it may not be wrong, but it's natural and a hell of a lot more real than you. So eat your stupid food and hook up. We're gonna go to the beach and order mass-produced beers at empty bars that you wouldn't even look at. Don't worry, we're still living in your world, hopefully capitalizing on the total predictability of your movements. Hopefully laughing all the way to the bank. Hopefully living our lives in peace because you're busy making out on the dance floor or eating at Cafe Gratikreationade or getting coffee at Intellistumpbottletown.
- Mixtape download here. Paul's Twitter / Instagram. Shop the Dillon Sun and more here: Sunglasses
---