Sunglasses

Eyeglasses

Sun Clips

Collaborations

Extras

Stories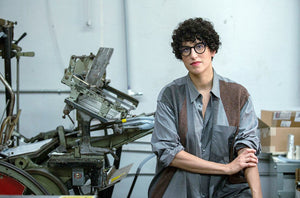 ---
---
Consider Paper Chase Press your go-to printer and bindery. This second-generation, family-run business has been perfecting the art of print while keeping up with the times. From luxuriously embossed, brightly colored notepads to conceptual-cool design services, their love of the craft offers a unique level of quality and innovation unlike other printers. But what sets them apart is not only their these offerings -- which have have earned them clients such as LACMA and Opening Ceremony -- it's also the accessibility which customers have, and the sustainable print solutions they provide. Here, any average joe can order a handful of custom quality prints, produced in-house at their zero-waste facility, and receive the same attention to detail as their bigger clients. We take a moment to visit Nicole Katz, who now runs the press with her husband, to chat about their plans. They are none other than noteworthy.

The press takes a lot of pride in its craftsmanship. Could you tell us more about how that expertise has grown as the landscape of print evolves? In many ways, digital technology rendered most print unnecessary. So when you decide to invest time and money into printing something, it should really be high quality. It's the projects that are beautifully made that will stand the test of time. Paper Chase adapts quickly; the business has evolved with the times, such as transitioning to digital press. Are there any new techniques or processes you've been obsessed with lately? 3D printing. In the future printing won't be limited to ink on paper, everything in our lives will be "printed" in some way. I'm excited to see the impact of that technology.

Paper Chase does some really beautiful, specialty high-end work. With you and your husband's art backgrounds, could you tell us more about approaching print with that sense of artistry? Having a background in the arts means being able to understand what our clients are looking for in the caliber of their work. It also makes us willing to take on crazy projects that other printers are too sane to do! We're curious: what are some favorite pieces of printed material that you've come across? I love books as art objects, Tauba Auerbach's RGB Colorspace Atlas and pop-up book are both amazing. I also love Mark Morrisroe's sardonic zine series Dirt Magazine.
It's the projects that are beautifully made that will stand the test of time.

How was it transplanting back to LA from the East Coast? LA is definitely going through a cultural boom right now, so are there dream projects/collaborations that you'd like to share, or crank out soon? Everyone seems to be moving to LA these days! The influx definitely makes for lots of new possibilities in our business. In the works right now are our ongoing collaboration series Paper Cuts, which continues to launch new products regularly, and our new blog series #FromTheDeskOf, where we talk with our favorite clients and friends about how they use print. Look for projects and stories with brands like Irene Neuwirth, Sugarhigh Lovestoned, and others coming up this year.

It sounds like the neighborhood is special to you. Could you tell us more about your love for Hollywood and your investment in the area? We've been in this shop since 1986. This part of Sunset Blvd. is very cohesive in a particularly seedy and amazing way. We've long dreamed of creating an official neighborhood here that we're calling The Hollywood Village. Check back in a few years, maybe we'll have made some progress! Three things that have been formative in shaping PCP's vision? The incredible people I work with, their enthusiasm for making beautiful printed matter, and the dramatic changes we've witnessed in our industry. Lastly, we have to know: how do you like your Hamptons & Clip? Leave it to Garrett Leight to make clip-ons so chic!
---