Sunglasses

Eyeglasses

Sun Clips

Collaborations

Extras

Stories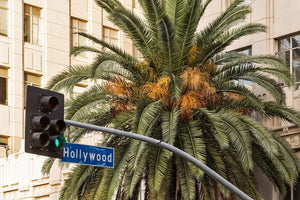 ---
Palms
WORDS: Patrick Sullivan
PHOTOS: Mathew Scott
---
Spectacle 9
Let's get right to the fact that although it functions as a tree, a palm tree is botanically more similar to grass. There are no branches, and no tree rings mark a palm's life span; nevertheless the plant species' existence in California have etched their mark firmly into the state's history. Pretty much all of the palm trees you see are not native to California, as with many things you find in our state. Palm trees come from all over the world, living at all different altitudes and latitudes. The California fan palm is actually the state's only native species, and it doesn't even grow where most of us live. They flourish from Palm Springs down to the Mexico border and into the mountains of Baja. As beautiful and stately as they are, they're pretty insignificant as a plant to rival say the Sequoia as a state symbol. But they do.


The palm is no doubt more endemic to Southern California than Northern. Hollywood immediately invokes the images of palm trees and mirrored sunglasses. Palm trees literally line the streets of beach communities from San Diego to Santa Barbara County. They're everywhere: palms sway along the sidewalks and beaches, tract home communities are landscaped with them, and cities drop hundreds of thousands of dollars to line the boulevards with palms as if to shout to the world that this is one of SoCal's more luxurious locals: eat here, sleep here, shop here.




But that doesn't mean that they're not all over Northern California too. Canary Island date palms stand proudly along the SF Embarcadero. They're also all over USF and SFSU, and they line the new Bay Bridge. Palm trees in Napa Valley help signify extreme luxury – vineyard owners might pay more than $30k a tree to line the drive into their property. But what do they care? It brings Ferrari owners in search of a sweet Instagram post and a place to spend some loot. California embraces the palm altogether. It's part of the property value.




The Mexican fan palm is what we know of as the iconic media symbol of California – giant sentinels towering over us in long lines down the streets of Los Angeles. It was at first thought of as too much, when LA was just a pipe dream, or maybe an aqueduct dream. They were too big and made the space seem empty. But that's since changed. It's the branding of In-N-Out, the symbol of the movie industry, a beacon of wealth and fortune, the leviathans standing tall over the stripmalls and low lying sprawl of Southern California. Its tall skinny mop top is reminiscent of a surfer drying off after a session, swaying in the wind, just chillin.




Palm trees possess an elegance and decadence that has come to fit nicely within the California ecosystem over the last couple of centuries. But like an aging supermodel, the tree sometimes has to work hard to remain appealing. One of the most photographed rows of palm trees in Los Angeles now lies sandwiched between the parking lot of an orthopedics hospital and the Harbor Freeway. While on the other hand one of the older, if not the oldest, palms in the city sits at the Figueroa entrance to Exposition Park and the LA Coliseum, passed by thousands of Rams fans every home game. It's always hard to say exactly where the next gentrification will be or where the next slum might take hold, but if it's in California, a palm tree will be there.


---