Sunglasses

Eyeglasses

Sun Clips

Collaborations

Extras

Stories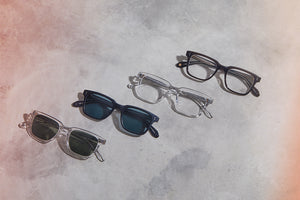 ---
Palladium
Inspired by Kurt Cobain's unisex style and Nirvana's iconic tunes, our Palladium frames are a perfect mix of harmony and power.
---
While you are probably already familiar with Kurt Cobain's round white Christian Roth frames - the ones Instagram cool kids were calling "clout goggles" a few seasons back - another favorite style that Kurt single-handedly made cool were a pair of chunky, rectangular frames with thick temple pieces.
In the years before eBay and DePop, scoring a pair of these coveted glasses wasn't as easy as having a WiFi connection and a PayPal account. To play in Nirvana's world, you had to dig deeper. That was part of the fun.
Unlike the egoic (some would say moronic) brand of performative, showbiz-friendly glam pop metal that was being peddled at the time, Nirvana's whole vibe was mysterious. But if you were down to follow the breadcrumbs, the rewards were awesome.
Before we get into the style, let's talk a bit about the music. Before it was an anthem, Nirvana's "Smells Like Teen Spirit" was an enigma. For one, its titular title - which Kurt Cobain allegedly didn't even know was a reference to a youth-oriented deodorant - is never even mentioned in the song.
In the early fall of 1991, two months before it hit number 6 on the Billboard Hot 100 and number 1 on the Alternative Songs chart, you would hear people referring to it as "the gym song" (a reference to its now iconic video), "with the lights out," and, for those with a more refined ear, "the one that sounds like the Bad Brains ripping off the Pixies." The music didn't conform. It was neither pure pop nor extreme punk.
The same went for the band's style. Sure, it was raw and ripped but it was also progressive, androgynous, and queer-friendly. Cobain often wore nail polish and dresses in photoshoots, a bold and risky move back in the early '90s and a loud, megawatt message to outsiders and marginalized humans all over the world. "You are not alone."
Inspired by Cobain's unisex style and Nirvana's power pop tunes, our Palladium frames (named after the legendary music venue where Nirvana opened up for Sonic Youth pre-Nevermind) are sure to get a lot of play in your wardrobe rotation. With their classic rectangular silhouette, they can be styled with everything from jeans and Chuck Taylors to a black suit and crisp point collar dress shirt. On the bold side of things, their oversized shape, quirky bridge construction, and chunky end pieces all provide a bit of extra volume. Available in both sun and optical styles, the Palladium is a perfect mix of harmony and power.
---