Sunglasses

Eyeglasses

Sun Clips

Collaborations

Extras

Stories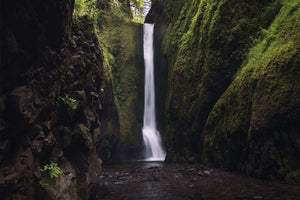 ---
Pacific Northwest
WORDS & PHOTOS: Mike Leary
---
I look up with fatigued eyes as the car thermometer blinks 111. I'm eight hours north of Los Angeles on Interstate 5 near Redding, California, hoping Oregon and Washington will be in the double digits. On the way to Portland, first to the coast to cool off and quiet the mind. Slowly I start to take in the subtle realities of Pacific Northwest living, the crisp air, the moody weather, the rusted vintage pickups in front of every house. The Pacific Northwest has entranced me since I was a young kid looking at the pages of my father's National Geographic collection – a land of mythical rainforests, sea stacks, lush river gorges, cascading waterfalls, and wildlife unknown to a Midwestern boy like myself.


After taking a dip in the frigid waters of the Pacific at Cape Kiwanda, I head east to the Columbia River Gorge, quite possibly one of the most beautiful stretches of land in the world. Losing myself in the waterfalls while the water beats down against the massive boulders, I spot a bald eagle soaring overhead. It almost felt like I was transported into a Tolkien novel, questioning whether or not this is in fact a reality. I camp at an RV park near the Lewis and Clark Trail close to Stevenson, Washington. Both Washington and Oregon seem to breed the rough and weathered nature lovers who would rather spend their days and nights outdoors.




I head up to Olympic National Park, deciding to hike the backcountry of the Hoh Rainforest, and find some solitude amongst the ferns and moss covered spruce trees. The rainforest receives more than twelve feet of rainfall each year. Tree limbs covered in moss and lichen hang over the trail and ferns cover the forest floor, making the word lush seem like an understatement. The fifteen mile hike is one of perspective and constant observation. Just up the way from camp is the small alpine Elk Lake. Fallen trees provide a gateway to a warm swim if you don't mind swarming mosquitoes and soft footed lily pads. Back at camp I rest my legs by the fire, taking everything in. All the chatter of daily life is drowned out and I'm back in a primitive existence that we have all but forgotten.




From the rain forest we drive half an hour to La Push Beach, the sky gray, the sun hiding behind the clouds. There are not many things better than camping at an ocean overlook a fire as the crashing waves lull you into a dream filled slumber.


---