Sunglasses

Eyeglasses

Sun Clips

Collaborations

Extras

Stories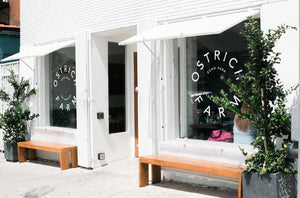 ---
---
What does it take to feel at home in Los Angeles? A valid metric might be the number of streets you can navigate without Google Maps. Or the number of months you can go without a parking ticket. Or maybe it's the the mileage you've spent driving through all the "Best of" lists out there. Despite the number of Instafamous locales you can gram and the inexhaustible sriracha-aioli food trends you can sample, sometimes being an Angeleno — being at home in this city — is actually no different than belonging anywhere else. It just means having someone across the table from you, instead of needing the world served up on a hip, kraft-colored piece of butcher paper. It could be as simple as ordering a plate of fish tacos, finding out they come generously sprinkled with grocery store shredded cheese, yet still being happy because you'd at least have someone to laugh about it with. Ostrich Farm was made for meals like that. No, not the shredded cheddar part — the better bit: meals with others. (If you're still hung up on whether it's grammable, yes it is. These pics are proof.) This New American spot in Echo Park was started by husband & wife team Jaime Turrey and Brooke Fruchtman just a little over a year and a half ago. The best thing, though, is that it was built with homey vibes in mind. Naturally, we did as homies do and came by to say what's up.
Given your DIY design skills and your previous experience at LACMA, how did this transition into food come about? I had an incredible time at LACMA and was lucky enough to be given a lot of freedom to explore interesting projects ranging from marketing to diversification of audiences, curating hip hop concerts to working on the in-gallery experience. But after nine years, I was ready to take on a new challenge — and nothing could have been better, or more rewarding, than helping my husband open his restaurant and start a business for our family's future.
How did Echo Park become the home to Ostrich Farm? And why the name? When we moved from San Francisco to LA fifteen years ago, we were immediately drawn to this part of the city. The landscape, diversity, and beauty, combined with a little bit of grit, called to us. And we absolutely love that Echo Park in particular is a real neighborhood in the traditional sense — many of our customers, now our friends, just walk over to have a drink and dinner at the bar. We searched a long time for the right property and finally, after many attempts, got in touch with the landlord of our building. It had been vacant for a few years, and had an untamed empty lot in the back that we have slowly been growing into our garden. The name comes from the short-lived Ostrich Farm Railway that ran along Sunset Blvd and into Griffith Park many years ago.
I wanted the space to feel casual and intimate – almost as if you were in our home, not a business.
What are some of your go-to spots as an Angeleno these days? With a new restaurant and two young kids, we don't travel much farther than the Silver Lake Meadow near our house, or grabbing tacos from El Condor on our one night off. Hopefully there will be much more exploring in our future, especially with all the great neighborhoods in East LA. Lastly, the question we can't skirt: what should we eat? We basically want to order everything. For dinner, the grilled Caesar – the romaine takes on a wonderful smoky flavor as it's cooked over the fire, and Jaime is generous with garlic and anchovies. For brunch, our bowls, like the spicy chickpea or quinoa and sweet potato are super popular. Healthy, hearty, and delicious.
BIRDS OF A FEATHER FLOCK TO:
Ostrich Farm 1525 W. Sunset Boulevard Los Angeles, California 213-537-0657 --
---