Sunglasses

Eyeglasses

Sun Clips

Collaborations

Extras

Stories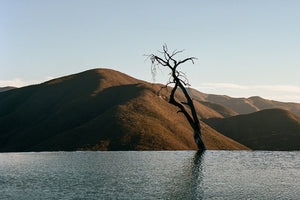 ---
Oaxaca
WORDS: Shawn Hanna
PHOTOS: Hanna & Foulkes
---
Oaxaca City is as cosmopolitan as it is architecturally stunning. With its imposing Baroque churches, plant-filled courtyards and shady, people-watching perfect plazas it's tempting to see the city as a photogenic relic of Mexico's colonial past. I should know, I've been there. Except I don't really. I barely saw anything from this historic center of culture and fine dining.

That is because after a two hour drive from LA, a slow customs bridge crossing into TJ and a red eye to Oaxaca – the cheapest way to fly to Mexico is to fly from Mexico – Carly and I skipped all the fluffy tourist potpourri and started drinking. Immediately. We linked up with a wizard friend of ours named Stefan and a crew of Austin-based creatives calling themselves the Land Boys, stuffed ourselves into a rental and drove east to the miraculous Hierve el Agua. The science behind the miracle is a freshwater spring that, for thousands of years, has slowly deposited calcium carbonate drop by painstaking drop over the side of a cliff, forming a solid rocky waterfall above which you'll find a collection of natural and artificial watering holes and infinity pools. These pools hold the world record as the greatest envy of every ostentatious Malibu mom who'd moist her knickers at the view and price tag. The cherry on top would have to be the singular and charming little tree at the edge, overlooking the valley like something out of a Tolkien utopia.


By the time we hiked to the top we were face deep in a sleep-deprived, mezcal-fueled fever that left us giggling at anything with a pulse. One of the Land Boys was cheekily trying to tell a dirty joke in Spanish to a young Brazilian backpacker that I don't really remember going over well. It wasn't offensive so much as just not a very good joke, though that didn't stop us from snorting like little piggies. The rest of our days in Oaxaca City was a very warm and fuzzy barrage of scrumptious food with several visits to local mezcal farms where we learned about the dozens of varieties of agave and the charming history of the craft. I believe some of its ancient wisdom sticks to your bones but it's difficult to tell when you're caught in an endless loop of mezcal "tastings." Let's just say it's in there somewhere, subconsciously.


For a much needed break from our vacation we headed for the coast. Less than an hour west by plane you'll find the eclectic and surf-centric town of Puerto Escondido. The cove is small and quaint, yet such a dynamic haven for wave-sliding, horse-riding, fish-fishing locals and tourists alike. For a bank-breaking 15 dollars a day you can rent a motorcycle (even if you have no clue how to ride one) and explore a few of its "secret" beaches. Now you don't necessarily need a motorcycle to find them; every cab driver in town knows where to go. However if you're like me, you love old Westerns and the near lawlessness of the land. So my personal mission was to prep for my M1 test by navigating Mexican highways on 150cc of Asian imported torque with a 9' board strapped to the side. Carly, who actually has an M1 license, rented herself a Vespa, the smarty pants that she is. We survived the rides and spent our afternoons lying in hammocks with cheap cerveza and fresh ceviche within arm's reach, watching local children run amok like a Mexican rendition of The Blue Lagoon.


For an even more authentic Western experience, you can rent horses and ride like hell on open beaches. At full gallop you feel like a king. All of my stray subjects followed behind my steed, barking praise for their harsh-yet-benevolent leader. It was glorious. And so dangerous. And possibly illegal. But there is no freer feeling than to be leader of the pack for at least a hundred yards of tucked back ears and clouds of kicked up sand. And for a moment, as I looked towards the ocean, I could see Lady Carly looking like a blurry vision of the goddess Artemis spraying water on the shore as she continued her hunt for new, more exciting sensations.

---