Sunglasses

Eyeglasses

Sun Clips

Collaborations

Extras

Stories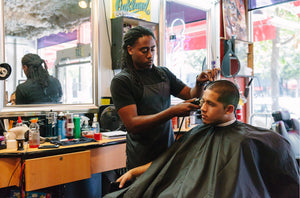 ---
Oakland
Photos: Alanna Hale
Words: Patrick Sullivan
---
Hearing about Oakland probably makes you think things that you shouldn't. You might think of poverty and drug use, or you might think of motorcycle gangs and violent student protests. But that really isn't their modus operandi anymore. Sure, there are still protesters and their window-breaking co-conspirators. Oakland definitely has the best medicinal marijuana dispensaries. There are still 3 am side-shows where you might get your foot run over by a '85 Monte Carlo with 30-inch rims, and some still sport whistle tips on their exhaust pipes. But over- all, those things don't define the Oakland of today. On the street you're more likely to hear a culinary conversation about vegan tofu mayonnaise than any fighting words.

You might have other misconceptions about Oakland centered around sports. The A's Moneyball strategy brought Oakland to the world's attention beyond the sports page, with Hollywood mustering the likes of Brad Pitt to play Oakland's legendary general manager/Ford truck peddler, Billy Beane. Oakland is rightfully proud of its 2015 NBA Champion Warriors, representing the city of...Golden State? And then there's the Raiders, the dirtiest team in football that also happen to lead the league in staph infections.

How about Oakland rap? Oracle Arena doesn't just host the Splash Brothers, it's the home venue to some of the dopest rappers ever. We're talking about the home of Tupac and MC Hammer, where Too $hort, Andre Nickatina, Mac Dre, and Del the Funky Homosapien stay. Oaktown has been a hip-hop think tank for decades, producing some of the most memorable jams of our time. Hieroglyphics, Living Legends, Digital Underground and Luniz all came up in Oakland. And you know the East Bay's still got 5 on it, pumping out hits from big name rappers like Sage the Gemini, Keak Da Sneak, and E-40. Everybody got choices. But still, the ghetto that Too $hort took us through is hard to find these days.
You're more likely to hear a conversation about vegan tofu mayonnaise than any fighting words.
It's hard to see Oakland as ghetto at all while housing prices skyrocket and the population becomes more and more similar to the millionaire tech bro influx of San Francisco. You're probably more likely to see some white dudes ghost riding their BMW these days. Oakland housing costs rose at a rate higher than SF last year. The property is being snatched up all around and new high-end eateries now outnumber the McDonald's and combination Taco Bell and Pizza Huts of old. Not a bad thing altogether, unless you're looking for affordability.

The East Bay spirit of old still exists. You might see it on Highway 24 while you wait for police to clear protesters from the freeway or catch a glimpse of it in the coarse graffiti messages scrawled in plain sight around the city like "Squatter Nation" or "You Can't Shoot Us All." People still have passion and fervor about social justice and equity, but on any given day you may not notice Oakland's edge at all. This is clear though: things are changing for better or worse, and you can feel that age-old conundrum from those residents with more seniority, "Hey, we're all for progress, but, goddamnit don't change anything."
---