Sunglasses

Eyeglasses

Sun Clips

Collaborations

Extras

Stories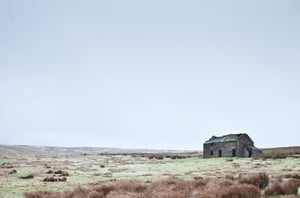 ---
Northumberland
Words + Photos: Diana Pappas
---
Howling gales batter the cottage, thrashing pine, larch and alder trees in the adjoining forest. But we're fast asleep and none-the-wiser, with thick stone walls silencing the menacing weather to less than a whimper. We're in Northumberland, in the very north-east of England, just south of the Scottish border, and it's the middle of winter. The sun is slow to rise this time of year, and doesn't get too high in the sky before it sleepily tucks itself back in for the night. The tendency to hibernate is strong.

The day begins with tea – always tea. The sound of the kettle boiling raises spirits and eyelids, and after five minutes of brewing, tea is poured and everyone adds in their preferred doses of milk: strong and milky, strong with just a little bit of milk, not-too-strong and milky, and so on. It's a comforting tradition. Sometimes breakfast is as simple as toast or sometimes it is a fry-up of eggs, bacon, black pudding, mushrooms and tomatoes. Today it is Craster kippers (oak-smoked herring) with buttered bread.

We hit the road, making our way north and east. Ancient stone walls and hedgerows line our route, blurring by in gray and pale purple. We pass ruined barns, swollen rivers and flooded fields – it has been the wettest winter since records began. Turbines churn away, giving a hint of what the trees have to endure as they grow. Their trunks and branches are twisted and gnarled, shaped by strong winds. It is undoubtedly bleak this time of year, but there is a beauty to the bleakness. Instead of the lush wildflowers of spring and summer, moss and lichen provide astonishing shades of green, yellow and orange. Sculptural forms of bracken and thistles are highlighted with frost, the hilltops dusted with snow and the river valleys filled up with fog and mist. We can't resist ditching the car every so often to wander on foot.

We pass signs for towns with names like Kirkwhelpington and Throckrington and great houses like Wallington and Cragside. Sheep dot the countryside at every turn, sharing their pastures with flocks of crows, seagulls and jackdaws. This land has a long memory – Roman settlements, an iron age fort, bronze age artworks carved into sandstone still visible thousands of years later.

By the time we reach the Northumbrian coast, the rain is pouring down. Although it is only mid afternoon the light has already begun to fade. Our efforts to get to Bamburgh Castle and Stag Rocks are stymied by flooded roads, so we only get as far as Seahouses. We park beside a grass-covered dune and make our way up and down its sandy paths to the beach. The North Sea has been worked up to a froth by the storm, obscuring the nearby Farne Islands and distant castles. High tide has left behind seaweed, limpet shells, unusual rocks and even a tree trunk. It is wild and mesmerizing.

The wind sees to it that we cannot linger there; our cheeks are red and our fingers are numb. The driving rain tests the waterproofing of our jackets, and our thoughts go from beachside wonder to the sole preoccupation of when we'll next be warm and dry, sipping cups of tea, and tucking into a feast of fish and chips with mushy peas – a rite of passage for any trip to Britain's coast, no matter the weather.
---