Sunglasses

Eyeglasses

Sun Clips

Collaborations

Extras

Stories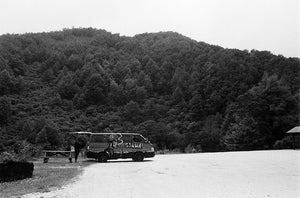 ---
New Zealand
Daytrippers /January 7, 2016
Words: Niles Howard
Collaborator Photos: Niles Howard
---
After a week of road tripping through New Zealand alone, the loneliness was taking a toll. I had met a lot of people, but rarely got deeper than a two-hour conversation; retelling my story every day was getting exhausting. Then I met Seline in Queenstown, and a chance encounter turned into a five day romance.

She had a peculiar way of choosing her vacations. Before I met her, she was traveling through Australia just to pet a kangaroo, then trekking to New Zealand because she wanted to jump off a cliff. When I left, she continued on to Malaysia for a month, because that's the same country her mother visited when she was her age.

I loved Seline's strange, small reasons for travel. It made me question my own. Were my big plans any more legitimate or considered than just deciding something out of the blue? It's easy to be skeptical of someone who visits a country just to pet a marsupial. But she did it, and I wouldn't know her if she'd questioned that.

Meeting Seline taught me to stay open to the unexpected. New Zealand ended up as an impossibly beautiful experience (and, for what it's worth, completely free of the Lord Of The Rings). She showed me that last-minute whims can end up as the most important, fundamental experiences in a life. I'm going to pick my next vacation for reasons like hers. So travel, fall in love, and shoot some film along the way.
---