Sunglasses

Eyeglasses

Sun Clips

Collaborations

Extras

Stories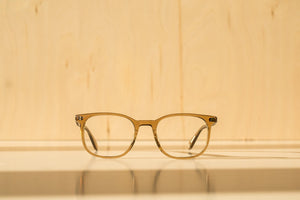 ---
New Acetates
Guides /March
Words: Adam Stanton, GLCO Optician
---

Spring is in the air. With summer just around the corner, GLCO has released a new lineup of acetates to keep all the homies looking fresh in 2018. For our spring collection, we drew inspiration from 90s culture, music, movies, art and fashion. For those of you who haven't heard the 90s are back, tie that flannel around your waist and bust out your old Smashing Pumpkins box set.


Loyola is a new favorite among the ladies with a slight cat eye and a medium fit. This frame dresses up nicely but is also a casual classic that's easy to throw on any day of the week. If you have a sweet tooth, I recommend checking it out in our new acetate colorway, Tiramisu. Boon has a lineup of amazing colors and, with its thin acetate design, brings all the style without overpowering the wearer. Now that we've released a smaller size of Boon for SS18, this popular acetate is a flattering option for both men and women. Bentley is back which is great news for all y'all with a big ol' dome. This bestselling frame has been reissued in 3 new colors that range from light Champagne to dark Matte Grey Crystal, with a perfect in-between tone of Bottle Glass Brown. Bentley is a favorite to customize into a sunglass, a service we offer in all of our GLCO retail labs.




From our new sun styles, Jacqueline would have to be my personal favorite. Inspired by the iconic 90s frames worn by Kurt Cobain, Jacqueline approaches the style with a more contemporary twist: it's an octagonal frame with layered, beveled acetate. Jacqueline comes in three colors: Black with Dark Tortoise, Silverstone (crystal acetate with silver glitter) and Cherry. Do I smell teen spirit? I don't know if Kanye cc'ed you on that email to Kim, but small sunglasses are what's up in 2018. Del Rey, a classic wraparound that can be worn by both men and women, is a perfect gateway frame to the small trend. It comes in four easy-to-wear colors and has playful start rivets to give them a little extra flavor. Clune in its larger size has now been released as a sunglass also with semi-flat glass lenses. This one works so well on so many that it's become an easy new classic for GLCO. Though it's easy to wear as an everyday option in all colors, the Nude with Pink Haze Mirror has a low-key pop for those who want to stand out a little more.




For all you wayfarers looking to get out of that same pair EVERYONE else is wearing, Calabar should be your go-to this season. Semi-flat lenses are paired with three classic colors and topped off with a notched temple inspired by 50s classic car fins. Slide through your living room in your underwear and a button down oxford to complete the look.


---