Sunglasses

Eyeglasses

Sun Clips

Collaborations

Extras

Stories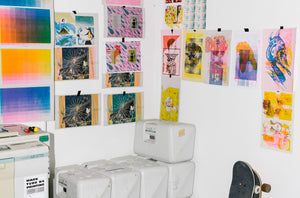 ---
---
Never Press is, ironically, always pressing, coming out with with rad zines that their risograph printer churns out. The print process, which bridges the gap between photocopying and screen printing, results in work that layers various colors of ink. Though it's true the technique requires specific ink colors and paper sizes, the only real limitations are dictated by the artist's ability to think outside the box. Basically, all your expectations of plainly xeroxed booklets can be thrown out the window. NP creators Jesse Fillingham, James Chong, and Gabe Gonzales are among those who challenge the limits of the medium. As alumni of the rigorous Art Center College of Design versed in print and illustration, they approach their craft with similar attention to detail: their independent publications range from intricately psychedelic pattern use to an intimate album of faded family photographs. Whether they're creating original work or inviting other artists to do so, Never Press is all about the creative freedom to explore without oversight.

There's a diverse array of visuals in your zines—what are some influences that have affected your range of media and styles? The artists we work with have a unique approach to their image making and all take on their own trajectory. For example, the images in Adam Ferris's print set Post-Office Problem were created through writing computer scripts that self-generate images that Adam would then select areas to crop into. It is his own way of collaborating with the digital medium. Gabe Gonzales' publication 2 Niice is a survey of Polymer sculptures made in 2013. The sculptures were both an expression of memory and a way to engage with form. The process was a vehicle to reimagine parts of his youth where psychedelic imagery and lore were always present.
Why risograph? Going with the risograph is hard to beat. The print quality is fantastic and layering colors always looks really really good. The prints looks like a screen print, but the process to get there is much faster. The risograph ink sits on top of the paper and can smear if not left to dry; so it feels more tactile than a digital print.
We will never stop making
narratives, whether
through comics
or abstract images.
- Browse the Never Press library. Check out the work of Jesse, Gabe, and James.
---