Sunglasses

Eyeglasses

Sun Clips

Collaborations

Extras

Stories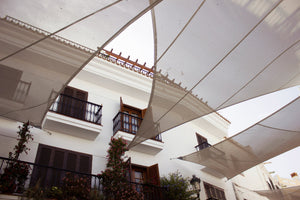 ---
Nerja
Words + Photos: Jenna Opsahl
---
Nerja seems to whisper and shout all at once. Its winding streets invite a slow, meandering curiosity, while the bright white walls scream of never-ending summer light. The secluded beach coves beckon you down to their lazy embrace while the bustling marketplace is loud with color and voices. It is located about 45 minutes up the coast from Malaga by a hot and sweaty bus ride. It's all rather barren on the way there, but as soon as you get to Nerja, you know. It is dazzling – a white town by the sea. It's not large; only about 20,000 people live there. But it sprawls and climbs in a beautiful way up the surrounding hills. The town invites adventure and a chance to just be – a rare feeling these days. It's an absolute escape.

We have two days in Nerja. I wish we allowed for more, but maybe then it wouldn't feel so special. It all kind of blurs together as one blissful moment. We spend our first evening there exploring the streets at twilight, journeying down to the Balćon. The Balćon gives us our first feeling of Nerja. Tourists fill the round platform, looking out over the sea as the sun sets. Everyone is eating gelato – it's a Balćon tradition and it is delicious beyond belief. Kids are racing remote-controlled cars, dodging through the legs of strangers. Street performers are scattered about the space, adding to the buzz of activity. This place feels alive. We spend our first night in Nerja a little sweatier than at home—it's probably 85 degrees at the coolest point—but absolutely blanketed in the magic of a warm Spanish night.

Our only full day in Nerja meets us with sunshine and a welcome shower of rain. We set out early, ready to jump into the sea after a humid night. We wander along the brightest streets I have ever seen. The mosaic walkways cause us to pay more attention than usual, both to watch our footing on the uneven ground and to marvel at the detailed work of something that people simply stroll on everyday. We pass several marketplaces. The only thing we buy is a tote bag with funny dogs on it and a giant bottle of water.

After descending a staircase that weaves through the homes of locals, our feet touch the sand. We make it to our chosen beach cove at last. We run to the sea now, and finally we are in its embrace. The water is warm and salty and we let the waves carry us to the more secluded outcroppings. This is Paradise, I think, looking back at the white homes on the hill. Soon it begins to sprinkle and I swear nothing feels as magical as cold water hitting your face and shoulders as you soak in the warm sea. We stay at the beach all day.

Sometimes I think Nerja can't be real. How could it be? Before my journey there, it was all a daydream. And now it is all a daydream again. Funny how memory works. But sometimes if I'm lucky I can still feel the salt on my skin and the sunshine all around me.
---