Sunglasses

Eyeglasses

Sun Clips

Collaborations

Extras

Stories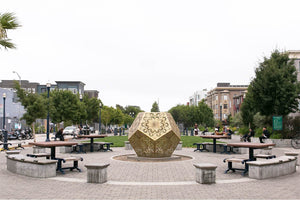 ---
Neighborhood Guide: Hayes Valley
Daytrippers /September 27,
Words: Christine Yoo
Collaborator Photos: Christine Yoo
---
Hayes Valley

Sometimes destruction is a setup. Amidst the ruins, in the rebuilding, opportunity arises for change. Such was the case with Hayes Valley when the 1989 Loma Prieta earthquake shook the Central Freeway to pieces. Before the disaster, Hayes Valley was overlooked and avoided, suffering from high crime and drugs abuse, not to mention the traffic and noise from the highway that stretched through the neighborhood. In the aftermath, things took on a different route. It started with petitions to stop the reconstruction of the highway, followed by years of gentrification and development. Now known for its chill vibes and upscale goods, Hayes Valley is the date night (or day) destination for strolling, wardrobe updates, and gastronomical adventures.


After daylighting as a baker and pastry chef for 27 years, Michelle Polzine got tired of working for other people. "It was time for something different," she reminisces. Then a stroke of inspiration hit her while traveling through Prague, Budapest, and Vienna. Smitten by European cafe culture, she realized: "This is what San Francisco needs." In 2013, 20th Century Café was born. The theme (and the name) is based on the 1934 film, Twentieth Century, Polzine's favorite movie. The 1930s vibe is woven throughout, from the interior, to the plates, silverware, and even the hairstyles worn by the servers. Stop by for a killer lox bagel made in-house and a slice of Russian honey cake in all of its ten-layer glory. Pair them with coffee from Four Barrel or tea from Song Tea & Ceramics.




A longtime resident, Acrimony has called Hayes Street home for nine years. At the time, retail shopping in San Francisco was limited to mainstream department stores. Hoping to break up the city's homogenous fashion options, Jenny Seger began curating fresh, under-the-radar designers with a mix of international brands, Scandinavian styles, and upscale streetwear. As for the collection, Jenny thinks of Acrimony as "the bridge between contemporary and streetwear." Shop here and you'll come out looking hip, guaranteed – not "hipster" hip, but the effortless cool kind. Before leaving, make sure to venture out back to see the display room highlighting a featured designer of the season; it's a gallery in itself.




Grab a cocktail and head to the patio, where string lights, heat lamps, and turquoise walls bump up an urban park vibe. Pick a seat amongst the many picnic tables or cozy up in one of the corners lined with plants. If the wind and Karl the Fog are coming on too strong, head inside to the bar and chat it up with the friendly bartenders.




A once-San Franciscan of twelve years, designer Clare Vivier has made her return to the city, opening up her seventh boutique across the street from the original Blue Bottle kiosk on Linden. Clare V.'s bright and airy space features millennial pink floors, a monogramming station, and large windows in the back that lead to a patio. The shop itself is a sight to behold., Strolling through it, you'll find leather goods (all proudly produced in LA) in all shapes and sizes: totes, clutches, crossbody, backpacks, wallets. And that's not all – there's also clothing, accessories, and shoes. And sunglasses – check out these gorgeous cat eyes recently?




Established in 1980 in Downtown, Modern Appealing Clothing hopped around the city before coming over to Hayes in 2004. Brother and sister duo Ben and Chris Ospital pride themselves on carrying items that can't be found commonly. The main attraction is their collection of Japanese and Belgian designers, followed by local designers from SF and New York. The siblings have been using the same business model for 37 years, developing personal relationships with every brand they carry. With no online presence, M.A.C. aims to keep the brick and mortar store a special shopping experience.




Everybody and their mom knows that Linden Street is famous for its original Blue Bottle Coffee kiosk. The location's real secret? There's actually an entire art studio behind Blue Bottle's counter. In this tiny space (the actual size measures 400 square feet) a team of talented ceramicists have their hands full with clay. Mary Mar Keenan has been making art in this space for eight years now, creating gorgeous tablewares for homes and restaurants like The Progress, Nightbird, and Little Gem. All MM Clay pieces are made by hand, glazed, and fired in one of the two kilns in the studio. This tight knit team produces 800–900 pieces a month. The studio is viewable by appointment only – if you're curious about the magic in the making, arrange to pop by. The friendly team will welcome you with open arms. Peep on MM Clay's social to claim exclusive sets and be on the lookout for sample sales and events throughout the year.




Laureano Faedi, who came from Buenos Aires over thirty years ago, is the mastermind and craftsman behind this hole-in-the-wall gift shop. He makes custom leather designs and products, sewing everything by hand. Nifty gadgets line the store, from gaucho knives to workwear. Other than handmade leather items, Paloma also offers an eclectic mix of products from t-shirts to wool blankets and vintage accessories.




Just like its name, Reliquary is a place where you go to find treasure. Owner Leah Bershad is a globetrotter who sources and collects interesting items like vintage pins, accessories, jewelry, and clothes. Some of it is vintage, some of it contemporary, but all is unique to the core.




On back alley-esque Hickory Street, a neon sign marks "Tacos Cala" across a dark wall. Here you can find Chef Gabriela Camera's casual taco bar (open only for lunch), behind her high-end Mexican restaurant Cala. A simple menu consisting of seven Mexico City-style tacos de guisado (slow-braised) changes daily, complemented by three agua frescas, one of which rotates seasonally (peach pink peppercorn anyone?). The two beverage staples – horchata and jamaica – hang out all year. Order at the counter, take your meal to go, or find a spot in the standing room at the long communal counter. You won't notice you're not sitting, because the taste party in your mouth will keep you busy, savoring the burst of flavor in each bite. If you have room left, go for the homemade ice cream palanqueta, scoops of chocolate ganache base topped with poppy-and-pumpkin-seed-studded caramel chunks.




Who knew there was a bar hiding behind the acclaimed restaurant Nightbird? What makes Chef Kim Alter's classy bar stand out even more than its exquisite drinks is the experience of The Linden Room itself. Bypass the advertised street address on Gough, swing around the corner, and enter on Linden, where elegant yet cushy leather chairs await behind the unmarked red door. The eight seats are backdropped by a wall of shelves displaying records and fancy bottles. Take your pick from the craft cocktail menu with names as intriguing and creative as the ingredients themselves. Whether it's Memory of a Tree, Grape Divide, or Paradise Lost, you really can't go wrong here.


---