Sunglasses

Eyeglasses

Sun Clips

Collaborations

Extras

Stories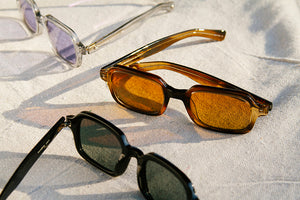 ---
Navarre
Inspired by the fashion forward, unisex styles of '60s pop icons and '90s vintage enthusiasts, our Navarre Sun frames are the definition of timeless international cool.
---
In the fall of 1965 legendary songwriter Lee Hazlewood had written a song so good he was sure he was going to sing it himself. It was called "These Boots Are Made For Walkin'" and it had an unapologetically arch lyrical theme that basically said, in lots of different ways, "you messed with me, and now I'm going to get revenge." It was, for the time, a pretty unconventional pop tune.
Thankfully for Mr. Hazlewood, none other than Nancy Sinatra (daughter of the Chairman of the Board) had convinced him that if it were to be sung by a woman, the song would be a smash. She was right. Not only did the song top the charts, but the images of Sinatra wearing shallow rectangular glasses with rounded corners in the studio while recording it became instantly iconic with both men and women alike.
By 1966, the look had spread to France and was adopted by celebrities like Brigitte Bardot and Francois Hardy. Back in the States, cool dudes like musician and all around suave guy Mickey Deans had also taken to wearing these unique frames, which would later go on to become a must-have for retro-obsessed indie rockers and vintage enthusiasts in the 1990s.
Inspired by the timeless, unisex looks of Mrs. Sinatra and Mr. Deans, our Navarre Sun frames perfectly split the difference between an everyday look and a hip statement piece. Assertive without being chunky, they can be worn by anyone who wants to let their timeless style do the talking - and the walking.
SHOP THIS STORY
---