Sunglasses

Eyeglasses

Sun Clips

Collaborations

Extras

Stories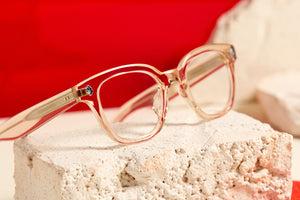 ---
Naples
Southern California's official tree — and laid back vibe it connotes — makes for a signature, tenth anniversary detail on one of our boldest frames.
---
As a Southern California brand, we draw a lot of inspiration from the palm leaf. Ancient cultures believed it symbolized victory — the Greeks draped palm leaves over winning athletes. It's the symbol of In-N-Out Burger, an icon of Hollywood, its tall skinny mop top reminiscent of a surfer drying off after a Malibu session. Every time you look skyward in Los Angeles, you see palm fronds swaying carelessly in the breeze— it's this ever-present reminder to slow down, breathe, and remember that regardless of the stresses of the day, the month, or the year, we're living in a pretty beautiful world.
Palm trees live at all different altitudes and latitudes, from Venice Beach to Bali to Jamaica, where reggae legend Peter Tosh was born and lived all his life. Tosh was the stylish sidekick to Bob Marley and Bunny Wailer in the Wailers. He was also an international advocate for the legalization of marijuana, a lifelong meditator and a very stylish dude. We found an old black-and-white photograph of him from the mid-1970s that helped get our engines running on a classic pair of sunglasses we call Naples.
Naples is a thick, bold, unisex frame that comes together in a flourish at the end-piece, a sort of bookish touch that gives this pair a vintage feel. The key detail on the Naples though, is the sculpted, palm leaf plaque at the temple—our nod to the Mexican fan palm, the same leviathan standing tall over the beaches, freeways, and low lying sprawl of sunny, Southern California: our home.
Naples Sun with ZEISS BioChrom Lenses
For a special limited-edition capsule, we're pairing the Naples frames with ZEISS' mood-altering BioChrom lenses. The unique offering will feature three lens color options—each giving the wearer a different mood-enhancing experience.
Need a mind and body boost for increased performance? Go for ZEISS BioChrom Boost red lenses that heighten your emotional response, drive, and physical performance.
Stay focused with ZEISS BioChrom Focus yellow lenses which improve your ability to concentrate and increase your alertness.
Zen out in BioChrom Relax green lenses, which have a calming effect while reducing head stress and promoting creativity.
The Naples BioChrom lens capsule will be available in limited quantities exclusively online and at GLCO retail stores.
---