Sunglasses

Eyeglasses

Sun Clips

Collaborations

Extras

Stories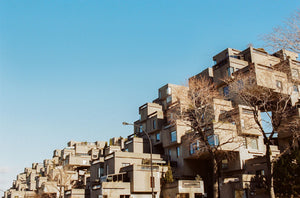 ---
Montréal
Daytrippers /February 19, 2016
Words: Chris Wilson
Collaborator Photos: Chris Wilson
---
After two months in New York, we were getting itchy feet to go out and explore new territories. The city has an amount of new places to visit and get lost in, but its towering buildings and busy streets had become overwhelming and we felt the need to see somewhere different growing stronger by the day. It was late November and we assessed our options, scouring the internet for late deals. One location on the list was Montreal, somewhere that offered a very different cultural experience and not too far to get to. Thus was it decided.

We took an overnight coach from Penn Station and after a restless night's sleep arrived in this noticeably colder city. Montreal is the second largest city in Canada but widely considered the cultural capital of the country. Its French influence is instantly apparent from the streetscapes, people, cuisine, art, architecture, and music of the place. The city surrounds Mount Royal, its three peaks dotting the skyline and offering panoramic views that reach for miles to reveal the vast, surrounding countryside. We saw the season's first snow on our first day there, introducing us to winter in the Americas and adding a new layer of depth to our experience.

At the base of Mount Royal lies an area bursting with culture. There is a multitude of bars, cafés and restaurants to choose from offering food and drink from an eclectic range of countries. The picturesque park became whiter by the minute as the snow continued to fall and the temperature continued to drop. The walk from Mount Royal to the waterfront was dotted with interesting places, spaces and faces; markets with local artists, artisan food stalls with live music, and hot drinks served to warm the belly.

As someone who works in the field of architecture, I was particularly excited to visit some of the city's unique and exquisite structures. In 1967, the World's Fair was held in Montréal; over 60 countries participated in Expo '67, and there are still a few structures remaining today. One of these is Habitat 67, possibly the most iconic building in Canada. Designed by Moshe Safdie, this housing complex appears like a stack of randomly organized Lego blocks, with ingeniously intertwined roof terraces and direct views outside offering a range of spaces to occupy. Brutalist in character, this building does not appeal to everyone, but nevertheless it is a marvel to observe.

The city's warm and comforting personality made us feel welcome and was a refreshing change from the intense, relentless energy of New York. It was certainly a different cultural experience from those we were growing familiar with, one that made getting cold feet worthwhile.
---