Sunglasses

Eyeglasses

Sun Clips

Collaborations

Extras

Stories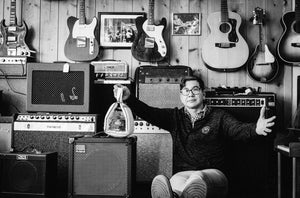 ---
Money Mark
Features /August
Words: Adam Johnston
Collaborator Photos: Randy Ronquillo
---
The music filled our teenage dreams: What'cha Want, Where It's At, listen all ya'll, it's a sabotage. The music fills the days of Money Mark Ramos-Nishita, producing, performing, writing, working. There's David Byrne's Contemporary Color with Ad-Rock, St. Vincent, and Nelly Furtado; Karen O's opera Stop the Virgens and David Choe's Mangchi music projects; De La Soul's newest album and his own upcoming album; the music of Nigerian funk god William Onyeabor in the carnival supergroup Atomic Bomb! Band; and soundtrack work on Horrible Bosses and the Halloween Kid. Now let the name dropping drop; this is what Money Mark really looks like, a composite of what the world offers. And this is what he sounds like.


Well, Mike D what's up? Yo Yauch what up? Come on Mike let's tear it up Hear no evil see no evil talking no bullshit So many damn people are so damn full of it Keyboard Money Mark you know he ain't havin' it Just give him some wood and he'll build you a cabinet

You seem to have a lot of projects and genres going on at any one time. Do you try to keep them separate, or integrate them? How do they inform one another? Well in my mind I'm simply building stuff and looking for something 'good'. Whether it's building furn ture or musical instruments or building sound designs or music shorts or songs. A film score, music for a video game, an album cut. All of it, it's like they're poems or stories or little worlds. Repurposing a metal trash can into a bass guitar, or gutting a 6V6 tube amp from an old Hammond organ that some suburbanite left on the street for garbage day. That's just on par for finding a 'good thing'. A 'good thing' might be a super cool sound or noise and it might be just as inspiring as a whole song. Or something you overheard someone say at the grocery store that is used as a lyric in a song: that too. The basic building idea for songs is to look and listen for sounds and stories and put them together. In that case I don't separate any idea or activity from another. I'm after all of it at once.


Cause I can give you all you need A little beat for the rhythm and some words to read Let me tell you now that's my favorite shit And when I got a new rhyme I just say it So Money Makin Money Money Makin' Super Disco Disco Breakin'


How do you balance purity and singularity of voice with the great mix up of genres and styles? After so many years of doing essentially the same thing, putting in those 10,000 hours of work and study, only then will an original voice appear. And that voice will have a unique quality all its own. Genre and style aside, being unique is where it's at. That becomes the brand. It becomes its own organism with its own set of rules and carves out its own place. Trying to be different is really just being yourself. Eventually you will have followers who recognize something in their self through what you create. That is something you cannot buy. It's better than gold!

How do other creative fields and environments feed into your own approach to making music? I view all of it as art and art making. Everything informs. I feel like ideas actually have energy. That a good idea has a tiny bit of gravity. That excites me about other art & craft. I see embracing of technique as something that becomes the common thing for any creative field. I love knowing what the basics are in theater, dance, fashion, photography, film, sculpture, painting, acting, tech design: all of it is coming together at some point in my mind. I see what others have done, how far they've climbed or how deep they've dived into their ideas and that kind of inspiration helps me to clarify my vision and fuel passion. I like staying close to where the action is. To know where pressure is pushing and what kinds of art and ideas are sprouting because of it.

What do you find more rewarding: the live show's experience of the moment, or creating something lasting that people recognize years later? To create something lasting as a goal is an idea that has always seemed odd to me. I just do what I do. Some of it sticks. That's all. For performing, that was an injection of a drug that I experienced so long ago but will, always and forever, keep me excited. You've been around a while. What's changed, what's stayed the same? What do you miss, what don't you miss? What gets you excited these days? Yes! I have been around awhile but my body clock ticks a lot slower. And as long as there's music to dance to then nothing has changed. Vitality forever! Having said that, there is a natural tendency to become nostalgic. Especially when those times brought amazing joy and prosperity. A peek over the shoulder every now and then just keeps me pointed in the correct aim. Seriously, I feel like I busted my ass to get here and I reward myself by looking forward and doing even more. I'm a lifer. In it to win it. I'm a walking encyclopedia and I shouldn't let it go to waste. If anything has changed it would be how many more people are on this planet. And if anything needs to stay the same then that would be to give love and then give even more.
I like staying close to where the action is. To know where pressure is and what's sprouting because of it.
A long time ago you helped the Beastie Boys make a home here. You're still here. What does LA do for you? What does it do to you? Los Angeles is a magical place. It has a mystery about it. It's a real desert with some well-preserved electronics, cars and desert people. I know that may sound weird to say but there is something about being ageless and living in SoCal. It's a haven for sunshine and excellent eats. There are pockets of little heavens all across the city everywhere. Angelenos have the chance to snowboard and surf the same day. Eat soul food for lunch in the inner city and a cliffside burger for dinner. Or a Japanese burrito or Korean taco or Mexican cemitas or sitting in a park with Armenian lavash, a chunk of Bulgarian cheese, and a Sonoma Cab. Now I'm getting hungry. The variety and the open space, the mountains, the ocean. Our good good neighbors to the south. I'm sold.


I ride on the bus into the city everyday I sit on a seat and I dream myself away I dream I'm on an island with that foxy lady, too When I awaken, I must be mistaken I'm on 3rd Avenue Won't you take me away and take away me


---