Sunglasses

Eyeglasses

Sun Clips

Collaborations

Extras

Stories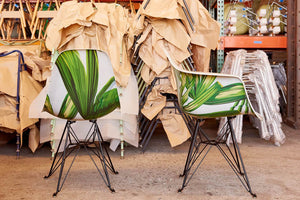 ---
Modernica
Features /October 
Words: Jeff Venida
Collaborator Photos: André Vippolis
---
Inhaling Fiberglass with Modernica

A lot has been written about a particular moment in the history of California design. It usually focuses on the mid-twentieth century, the Case Study program, and the work of Charles and Ray Eames. It's a well known story that has become an essential part of our collective visual language and a part of Los Angeles' cultural identity. Inspired by this movement, a company called Modernica has been creating modern furniture from their Los Angeles factory, keeping the tradition going while defining it for a new era.


It all adds up to the alluring myth of a quintessential West Coast lifestyle; perennially sunny and laid back, it's a powerful image that still draws many here today. Midwestern transplants Jay and Frank Novak fully embraced California's unique culture when they founded Modernica nearly thirty years ago as a prop rental company. With what is now the largest collection of authentic mid-century furniture in the world, they celebrated a passion for all things modernism: its history, its innovations, and the iconic shapes that defined it. Transitioning from collecting to manufacturing was the logical next step. Off a corroded stretch of Alameda Street just south of Downtown Los Angeles, the Modernica factory is hidden on a nondescript cul-de-sac in Vernon, a notoriously polluted enclave of heavy industry and the state's smallest incorporated "city." The front building was painted a vibrant hot pink for an event hosted earlier this year and sticks out among the surrounding rows of derelict warehouses and scrap metal depots. The scale of the complex is larger than anything you'd expect from a boutique American furniture maker in 2017. With dedicated buildings for each element of Modernica's ever expanding catalog, teams of skilled craftsmen build each piece by hand, one-by-one, to order.




Standing in the middle of the sun-bleached lot is a tall hanger-like structure that houses the original preform press used to create the fiberglass shell chairs of the 1950s – the only machines of their kind that still exist today. Modernica continues to produce chairs using the same methods perfected half a century ago, while others have substituted their materials for newer plastics. A handmade preform of shredded fiberglass threads is fed into a high-pressure mold, creating a single, durable piece, while custom developed resins are introduced to create a full spectrum of color options. The entire process requires a highly specialized skillset; some members of the team have been making these chairs for decades. A few years ago, Modernica began exploring the idea of collaborations with different artists and brands. It started with Nicky Diamonds, who connected with them on the concept of a custom printed fiberglass chair. This was something that had never been done before; something that the preform presses were never designed to do. For the better part of a year, the team experimented with new methods and produced dozens of prototypes. Eventually they developed a technique that could set a carefully placed image beneath the resin finish. Since then, they've released a series of limited-edition chairs, taking a classic form and infusing it with new creativity, applying contemporary ideas with art and fashion.




There will always be a case for an original, and there are definitely design purists that would throw around accusations like "replica" in the defense of that idea. Having moved beyond its origins as a prop house with an appreciation for mid-century aesthetics, Modernica's focus today isn't on recreating a golden era of the past. It's carrying forward the ideas that drove the first wave of California modernism, where we continue to live in the present with good design that reflects our idea of a modern life.



We're also proud to announce a release of the limited edition collab chair. A classic midcentury design constructed from fiberglass, the GLCO x Modernica chair features a custom palm print on the backside reflecting the brands' shared California heritage with a classic Eiffel base powder coated black. Each of the 40 chairs were designed and made in Los Angeles, and come with a badge of authenticity. To coincide with the collaboration chair release, GLCO is also offering a limited edition GLCO x Modernica Warren frame in Champagne with Pure Green glass lens. The frames come with an exclusive matching case wrapper and cleaning cloth, reflecting the shared aesthetics of both LA based brands. The limited edition GLCO x Modernica chair and the GLCO x Modernica Warren frame will be available this November at GLCO retail locations in Los Angeles, New York, San Francisco, Dallas and online.
---