Sunglasses

Eyeglasses

Sun Clips

Collaborations

Extras

Stories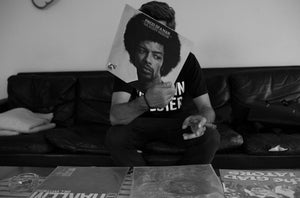 ---
Mixtape No. 5: Mathieu Schreyer
PHOTOS: STEVEN TAYLOR
WORDS: GARRETT LEIGHT
---
Mathieu Schreyer
Mathieu Schreyer
There may not be another city that has saturated the word DJ like Los Angeles. It's as equally responsible for the defining the value of a good DJ as it is for creating the nonsense that is simply a trend. Mathieu Schreyer pays attention to none of that. A man that "DJ'd" his first party at the age of nine does it for the love of the sound. It's never been anything more or anything less than true love. Schreyer has lived your wildest Los Angeles dreams.
A man that "DJ'd" his first party at the age of nine does it for the love of the sound.
He's seen it all with music as his vehicle. He's a curator, a producer, a creator, a conversationalist, and an advocate. Go look at his bio. He knows everyone and does everything. He's the quintessential Fantastic Man or Man of The World. But he's gotten here on pure passion in a language that he is well versed in, music. If you don't think music can change the world, then you might not speak his language. And when a Frenchman becomes an Angeleno, the earth's core cracks a little.
What did you think LA might have to offer you that your home did not?
At the time it had everything to offer for me. I was already Djing and was big on buying records. 90% of what I was looking for was made in USA. It was a no brainer for me. Plus, the sun, the ocean, the music, and the weed? Sign me up. I mean, it was either that or being drafted into the French Army. No thank you.
When did music change your life?
At a very young age I bought my first tape, at six years old with tooth fairy money. I was always musically inclined with my older siblings leading the way. But I really got conscious of music when I got into Bob Marley and also hip-hop in the late eighties. I was 12 or 13 when I realized how important music had become in my life. When I was 17 I got turned on to "real music" by my sister's boyfriend who was a pro ballplayer in France. He gave me records by Bill Withers, Eric Burdon and War. He gave me my first Gil Scott Heron, some James Brown and then I never looked back and started to DJ shortly after.
When you first arrived in Los Angeles what was the music scene like?
It was pretty simple if I remember correctly. You had the hip-hop scene with Unity throwing dope live shows and the scene at Leimert Park with Project Blowed. The rock scene in the usual spots in Hollywood like Roxy and The Whiskey. And the techno rave scene with the full moon parties and the early burning man parties...no hipsters back then.
How has it changed/evolved?
I think it all changed for the best. It evolved in the right way. Now you can hear it all in one night, you can go to any neighborhood of LA and hear good old disco, house, hip-hop, rock and world music in one night. LA is a lot more sophisticated now than it was in the mid nineties. We have a lot more transplants here. There's people from New York, London, and all walks of life that have brought a way of living with them and applied to the reality of California living. But really, LA is a laid back open place, anything goes here, there is not too much judgment. I feel people here are very accepting.
What are a few albums that ideally everyone in the world should know and understand?
Ah man, that's a tough one. I honestly don't think that there is a single record out there that everyone can relate to. Music, like everything else is a very personal experience in itself, and we all want and like different things at different times. Don't we? But if I were to say, "OK, everyone listens to this particular record at this particular moment." Then maybe we could get everyone to agree on how awesome that record is. After traveling around the world I can honestly say that the most loved artist out there is Bob Marley. It's pretty unanimous. So maybe one of the first 3 or 4 Bob Marley records could get us to all agree. I am not a big Beatles guy, but I'm sure they're pretty close to that Bob feeling in the world.
Can music save the world?
Music could put Jesus out of work. Yes.
---